The CZ Scorpion EVO 3 S2 Pistol Micro, aka the CZ Scorpion Micro, is one of the latest pistol caliber carbines we have got our hands-on.
Newer Model Available
CZ has recently released the CZ Scorpion 3+ Micro which is a newer model of this gun. While this review still has value for anyone in the market for a CZ Scorpion Micro it was only right we keep you updated on the latest and greatest.
After looking at other pistol caliber carbines like the Sig Copperhead, PSA AK-V, CMMG Banshee, Aero Precision EPC, and the Stribog it's time to dive into the Scorpion Micro!
CZ Scorpion Micro
Action: Semi-Auto
Caliber: 9mm
Capacity: 21+1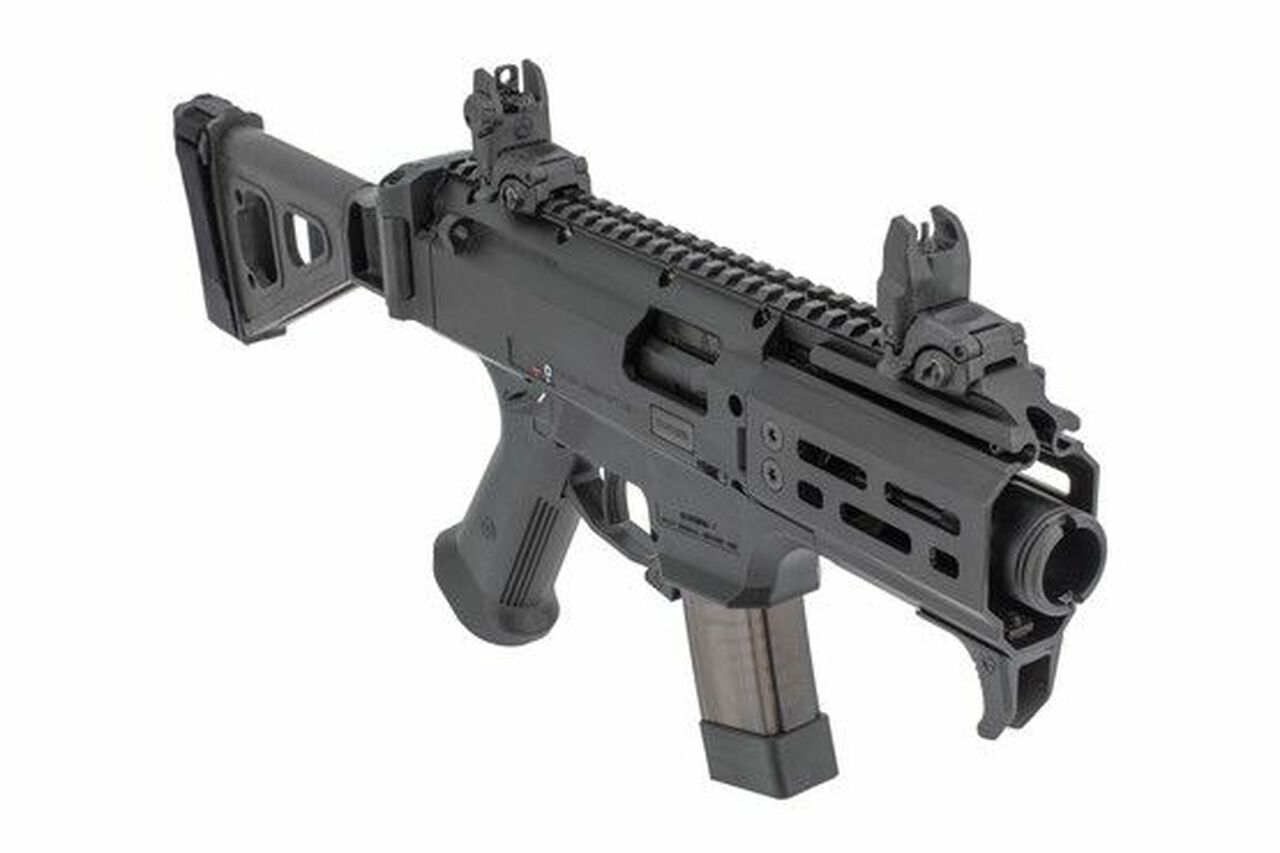 CZ Scorpion Micro Overview
CZ Scorpion Micro is an extension of the CZ Scorpion Evo 3 line. Introduced in 2007, the Scorpion Evo 3 became quite popular worldwide on the submachine gun market.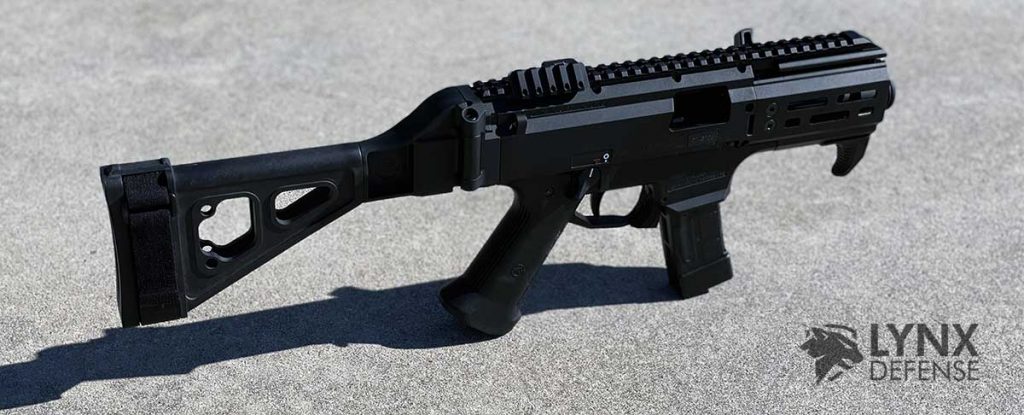 CZ later brought a pistol version of the CZ Scorpion Evo 3 to the US market in the early 2000s, intending to bring a design to market to compete with the outdated and very expensive H&K UMP.
There is a lot of police and military organizations around the world that are still using submachine guns.
When the CZ Scorpion was introduced, there were not many options, so the H&K UMP had become popular.
So naturally, the CZ Scorpion showed up to take advantage of a lot of that market. Most notably, Egypt adopted the CZ Scorpion is a sub-gun.
The gun features a polymer receiver, which at the time of introduction made it a more modern gun than most of its contemporary counterparts.
With the invention of pistol braces, the CZ Scorpion Micro became much more marketable in the US market. Before that, it was confined to pistol variants and SBRs, or short-barreled rifles.
Ergonomics
The look of the scorpion is pretty awesome but how does it stack up when you actually hold it to shoot it?
We will answer those questions in the next few sections.
Safety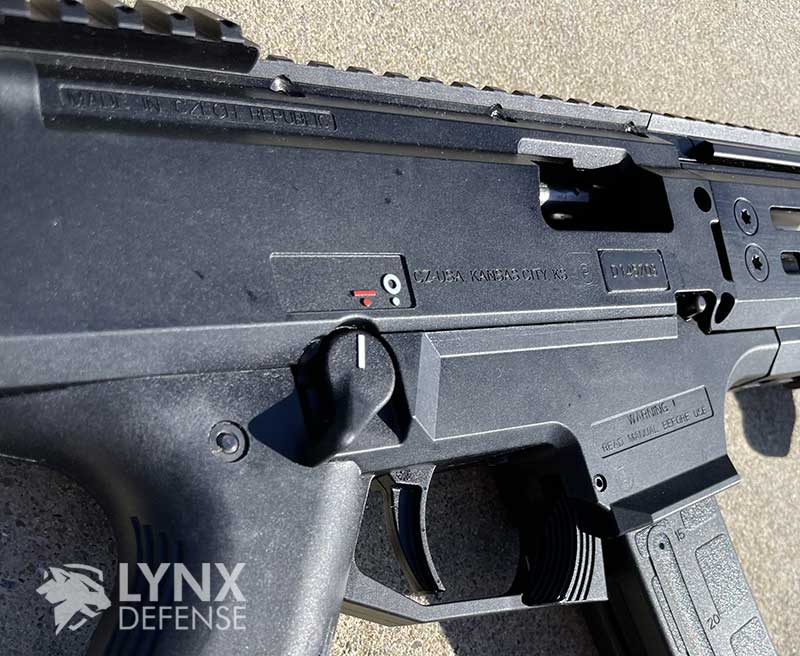 The safety on the Scorpion Micro is pretty similar to an HK-style safety.
It is positioned well, right above the trigger bar in front of the pistol grip. Your thumb can easily deactivate the safety by swiping it forward.
The forward swipe is only around 45 degrees, the safety itself is ambidextrous. And it will dig into the knuckle of your firing hand. Be warned: the knuckle behind your trigger finger will eventually get beat up by the safety if you use it a lot.
It's not that ergonomic from an ambidextrous standpoint. The shape of the lever itself works great.
If you are used to an AR-15 style trigger, you won't care for this safety style because it digs into your finger. There's not a lot you can do about it either.
If you maintain a high grip on the pistol grip, it's going to dig into your knuckle no matter what. If you add one of the safety delete kits, the problem of hitting your knuckle will no longer be an issue for you.
Pistol Grip
The CZ Scorpion Micro comes with a removable pistol grip. Original versions of the CZ Scorpion Evo had the pistol grip injection molded into the lower receiver.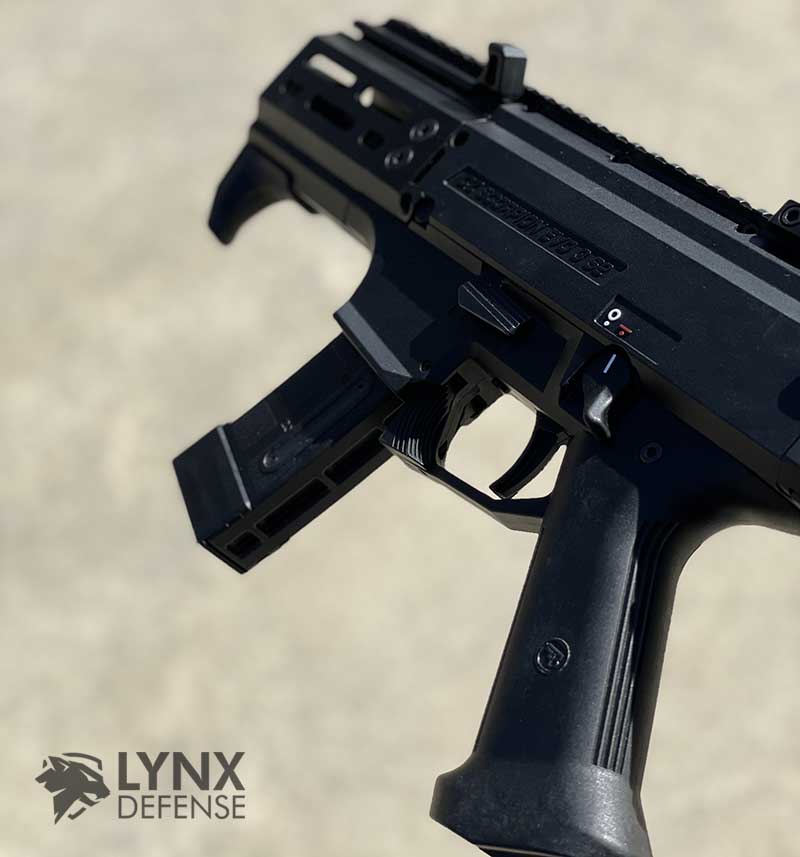 You can get aftermarket options from Magpul and other companies if you don't like the stock pistol grip.
There are also many companies with 3D printing grips for this gun since it has relatively low production numbers compared to guns like the AR-15 and the AK 47.
The stock factory grip on the CZ Scorpion Micro has a very aggressive angle, similar to an A2 grip on an M16 A2. That grip is not good for close and CQB-style shooting.
It would be much better to see a flatter 90-degree style of grip, like what you see on most modern AR-15s and submachine guns.
The pistol grip is designed around a more bladed style of shooting that is no longer as popular in close quarters tactics.
Magazine Release
The magazine release on the CZ Scorpion Micro sits in front of the trigger guard.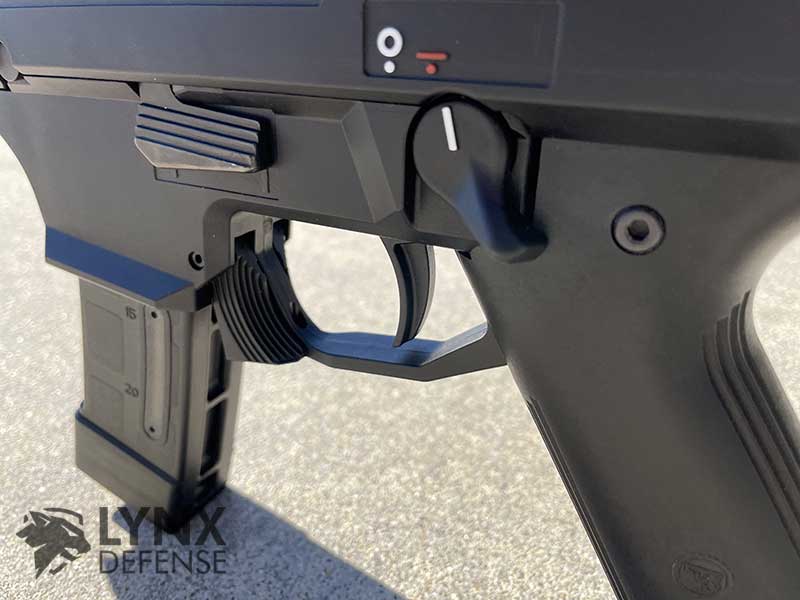 It is a paddle-style release, and it is completely ambidextrous. And its design allows you to drop the magazine using your index finger.
If you have average to long fingers, you could release the magazine using your support hand thumb, flipping the magazine out as you go. The magazines drop free so that either tactic will work.
The magazine release is fairly easy to use since the spring on it is not very aggressive. You can easily press in to drop the magazine, but you also feel the magazine being held securely in place.
Magazine Well
The magazine well, or mag well, on the CZ Scorpion Micro, has a slight bevel or chamfer on the sides. But the chamfer really doesn't do much to help you reload the pistol.
It would be nice to see the chamfer angled in a little more to give you more of a guide.
However, the CZ Scorpion Micro is not a hard gun to reload, and it features an intuitive design.
Scorpion Magazines
The best feature of the CZ Scorpion Micro is likely the number of magazines you can get for the gun.
You can buy the magazines in 10, 20, 30, 32, and 35 round capacity.
Plus, there are a variety of extensions and drum magazines available. These multiple magazine options allow you to really employ the gun the way it should.
This gun comes with a 20-round CZ magazine, and it truly is a perfect size, especially starting out. Magpul makes magazines that are in large supply and are affordable.
Bolt Release/Bolt Hold Open
The bolt release/hold open on the CZ Scorpion Micro is only located on the left-hand side of the gun, so it's set up for right-handed shooters.
A right-handed shooter can take their support hand, insert the magazine, then depress the bolt release with their left-hand thumb. That being said, it also works quite well for left-handed shooters.
If they want to use their trigger finger to drop the bolt release, it's conveniently located.
I am not well-versed in reloads using my right hand as a support hand, so it would be unfair to time myself to see if it's any faster.
But I assume I would be able to drop the ball quicker using my left-hand trigger finger, rather than using my left-hand support thumb when operating the pistol as a left-handed shooter instead of a right-handed shooter.
There is a last-round bolt hold-open feature on the CZ Scorpion Micro as well.
Charging Handle
The CZ Scorpion Micro's charging handle is set up very similar to an MP5.
It's mounted forward on the handguard between the top rail at 12 o'clock and the 9 o'clock slots on the handguard.
You also have the ability to back in a notch, similar to an MP5 making it easy to release the bolt by slapping it down the exact way you would an MP5.
One difference between the CZ Scorpion Micro and the MP5 is that you can switch the side if you plan to run the charging handle on the Micro.
There are also various aftermarket charging handles that you can add to the CZ Scorpion if the factory one doesn't suit your needs.
The charging handle, as it comes from the factory, is very low profile. If you had a light or laser mounted on the top rail, you might have trouble accessing the charging handle.
The charging handle is a polymer charging handle with a U shape in the front for your trigger finger or your left-hand support index finger to grab when cocking the weapon. That polymer piece is well-designed and is comfortable to use, but it does bring your fingers very close to the rail itself.
It would be nice to see it mounted a little bit lower and out of the way of any accessories that could be mounted to the top rail or extended a little bit. To give you a little more clearance, so you don't bang your fingers on the accessories you might have mounted on the gun.
Configuration
The CZ scorpion micro comes with an SB tactical folding brace.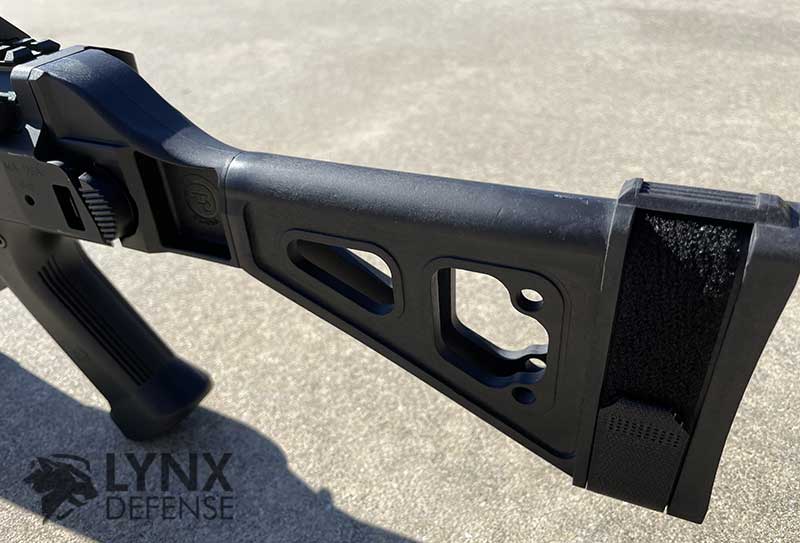 Previous variants have come with the SB tactical collapsing, PDW style brace, but CZ decided to switch to the folding brace. The CZ Scorpion folding brace folds to the right-hand side of the gun. And there is clearance for rounds to make it outside of the ejection port.
The folding brace makes the gun shorter than the PDW brace when the brace is collapsed or folded.
But one thing you'll need to take into account is that the CZ Scorpion Micro is already a very wide gun, just from one side of the receiver to the other.
When you add in the width of the brace, it becomes even bigger. So if you plan to stow this pistol in a backpack or a briefcase, you'll want to keep in mind that it will take up a lot of storage space.
There are a variety of aftermarket options for the CZ Scorpion Micro as well.
You can add a Tailhook to an existing scorpion stock cheek rest. Or you can get a variety of other brace options, mostly using the gear works Tailhook as the brace portion itself.
There's a company called Dan Haggen Designs that also makes an incredible ACR Magpole Zuckoff stat stock adapter that turns the stock into a pistol brace. This gives you the look of a stock with the functionality of a pistol brace.
The gun does come with a set of Magpul MBUS flip-up sights.
Personally, I find that those don't fit this gun. Well, they seem a little bit out of place. And with the price point of a gun, it would have been nice to see them include something metal.
However, I would rather include the fixed iron sights included on the regular CZ Scorpion EVO 3 S1.
Optics Mounting
It's easy to mount optics to the CZ Scorpion Micro as there's a long rail at 12 o'clock that will fit pretty much any optic out there. You could run EOTechs, Holosuns, Aimpoint, Trijicon, whatever your heart desires.
The one thing you want to keep in mind is you wouldn't want to mount the optic really forward on the rail, which really isn't an issue because that would be an awkward spot.
But if you did want the optic further down the rail, you would probably run into issues clearing the charging handle.
CZ Scorpion Micro
Action: Semi-Auto
Caliber: 9mm
Capacity: 21+1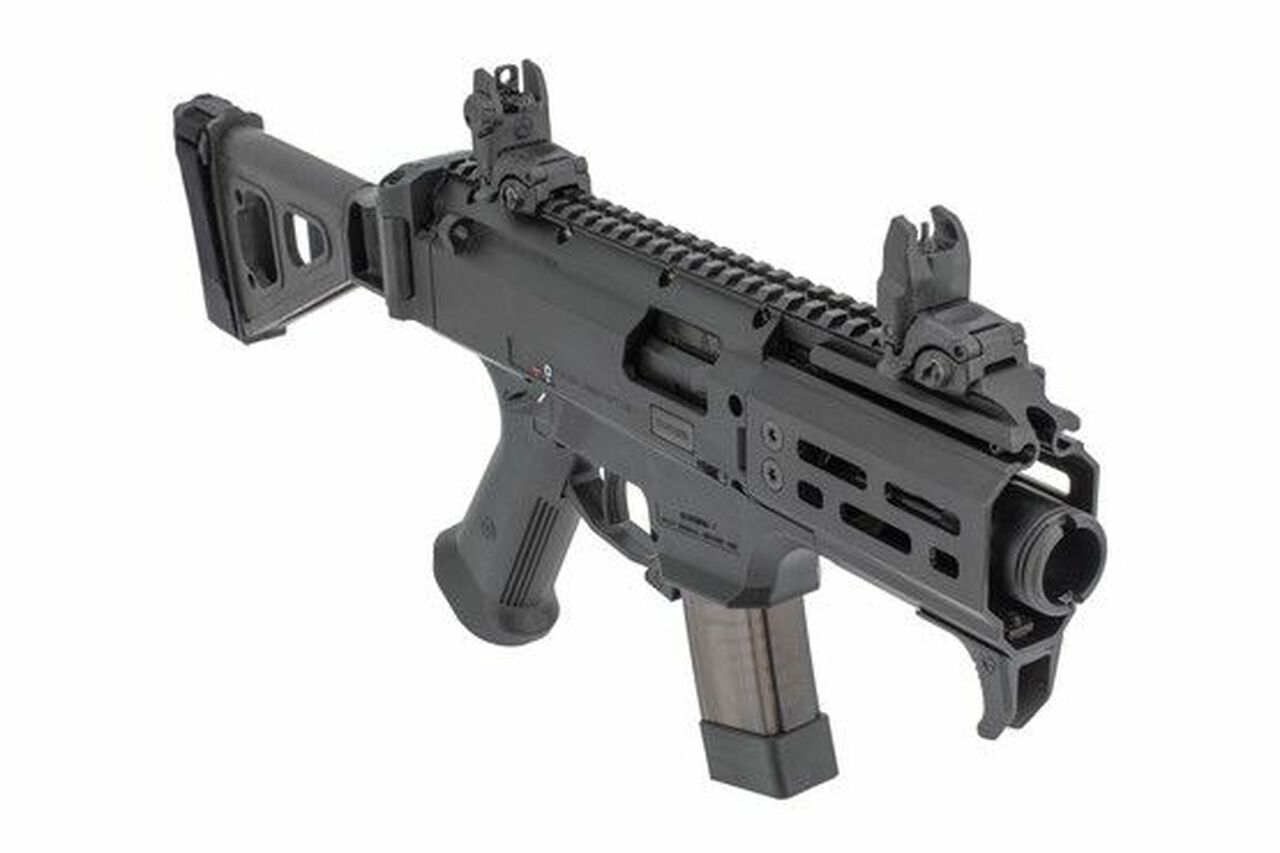 Accessory Mounting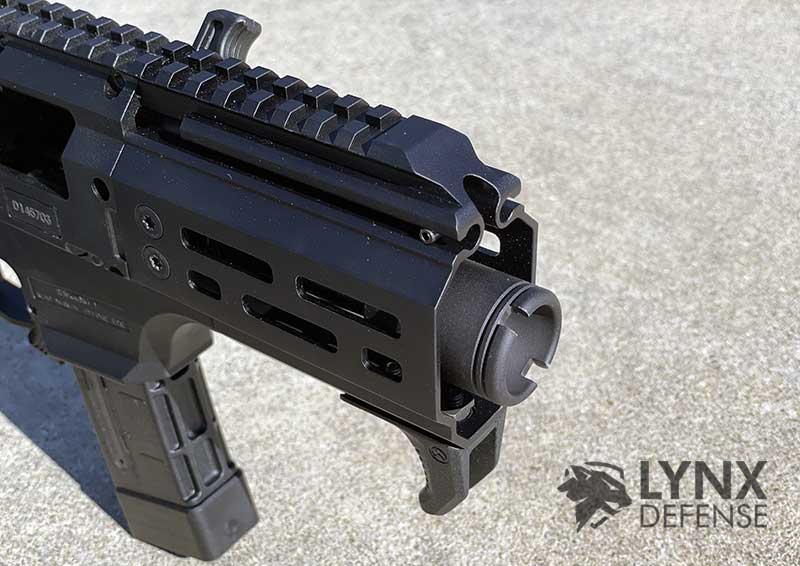 Light Options
There are lots of spots to mount a light to the CZ Scorpion Micro. The handguard has MLok slots at the bottom and the 9 and 3 o'clock positions and the Picatinny rail upfront.
Now the issue with the Picatinny rail is you're going to have to reach up very high in a C clamp grip to be able to access any pressure pad there.
If you mount a light on an offset mount, the light will stick out way past the muzzle. If you're running this gun suppressed, that's not an issue. But if you aren't planning to run the gun suppressed, you're probably best not to put a light on the CZ Scorpion Micro.
I personally run it with a mod light attached to the mod light mod button. The mod light mod button will sit forward on the farthest forward rail mounting section mounting the model light.
There it is usable, but it's still not ideal. And if you were to try to use this as an ambidextrous gun, it would be very hard switching shoulders and activating the light.
As short as this gun is, it does face some ergonomic challenges.
Sling
The CZ Scorpion Micro has sling mounts at the rear of the receiver. That said, it will only allow you to mount a single-point sling.
I personally have added a Parker Mountain Machine QD cup at that rear mount. I plan to add a Magpul mount on the front of the rail at the 9 o'clock position to run a two-point sling.
Trigger Pull
The trigger on the CZ Scorpion Micro is something that people probably don't have a great experience with.
When you go into the trigger pull itself, you feel some creep, more creep, more creep, and then it eventually breaks.
It's a very heavy and nontactile trigger. One positive thing about the trigger is the reset on the trailer is fairly heavy and aggressive. So that's good.
However, once you have reached the reset then start pulling the trigger to the rear again, you feel more, create more creep, and more creep until you hit that rolling break.
Again, this trigger is way worse than any Mil-Spec AR-15 trigger I've ever felt.
The good news is there are plenty of aftermarket options available if you want to upgrade it.
Don't expect any prizes from this gun. It is perfectly suitable for the gun itself, but there's a lot of room for improvement, and it could slow down your split times.
CZ Scorpion Micro
Action: Semi-Auto
Caliber: 9mm
Capacity: 21+1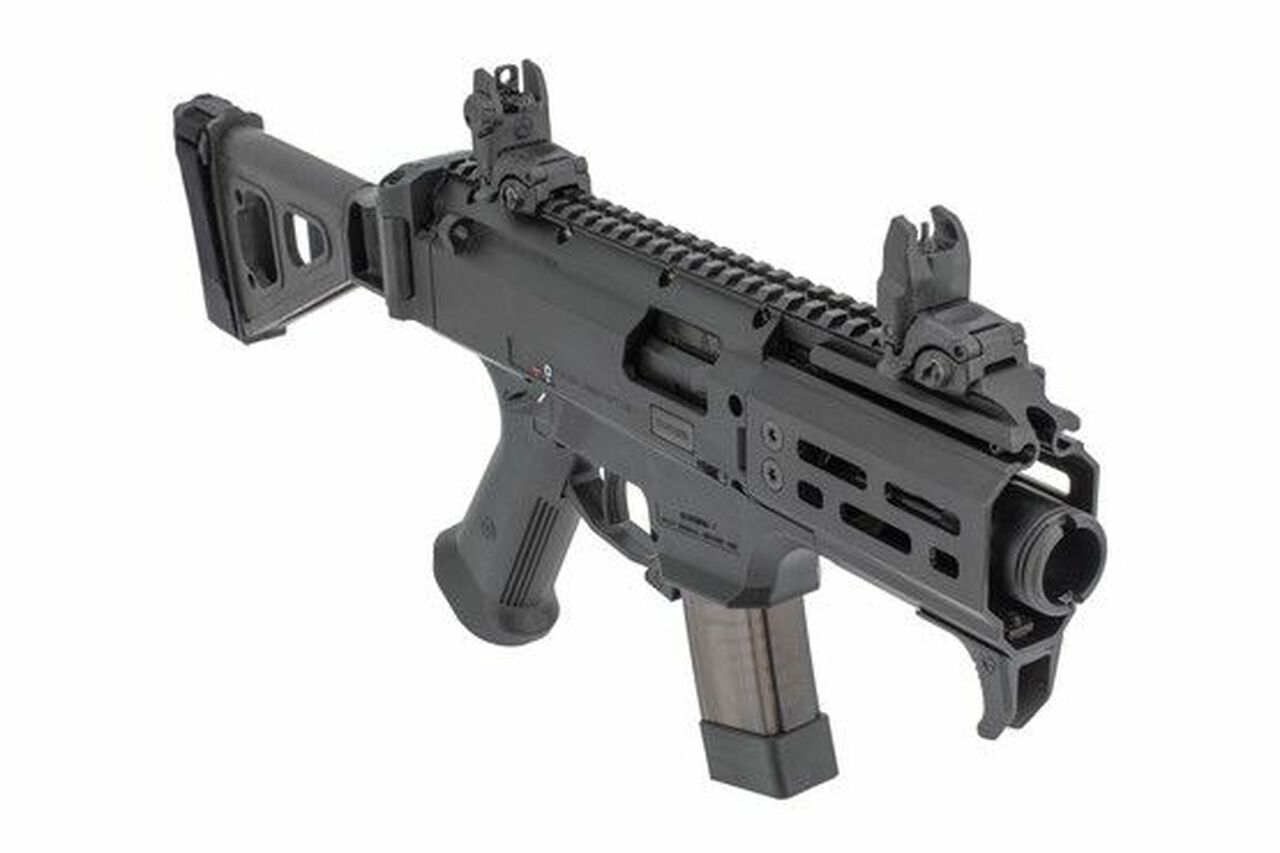 Ergonomics of the Gun Overall
The ergonomics of this gun are compact.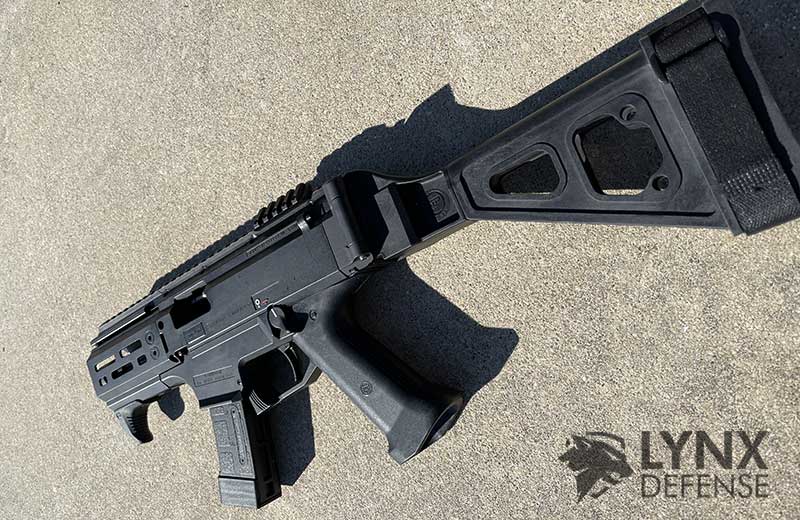 The gun itself is fairly wide, and you can definitely feel that in your hands. You may encounter some issues if you're a taller shooter with longer arms as the handguard is very short. It's hard to get your hand far enough to maintain excellent control on the gun and feel natural.
But you can definitely grip it well. The CZ Scorpion Micro is short by design, but that compact size comes at a cost. And that cost is ergonomics.
It's not as bad as other guns like the SIG MPX Copperhead, but it could be improved. I think a smaller handguard might go a long way in helping the situation.
With the CZ Scorpion Micro's design at the lower receiver, a smaller handguard would look incredibly odd or likely have design impossibilities.
Shooting
Shooting the CZ Scorpion Micro is a blast! But for a 9mm gun, it has a ton of recoil.
If you haven't shot a PCC or submachine gun before, you're probably wondering why is he saying that a 9mm gun has a lot of recoil?
Well, the firing system on the CZ Scorpion Micro is a direct blowback system.
This means it has a hefty bolt with a lot of mass sitting in the rear of the gun. So when the bolt goes back and forth, it makes the gun jump around. There's only so much you can do to keep it on target.
If you're expecting this gun to operate like an AR-15 in terms of recoil, you're going to be sorely disappointed.
In some ways, this gun is more fun to shoot than an AR-15 because of the increased amount of recoil. It's definitely more challenging.
If you like a challenge, you'll probably enjoy the CZ Scorpion Micro.
Overall Thoughts
Overall, I really like it.
I like the CZ Scorpion Micro as a novelty or movie gun, as I like to call it. The CZ Scorpion Micro has been in many movies, and it's a cool-looking futuristic Hollywood gun.
CZ Scorpion Micro
Action: Semi-Auto
Caliber: 9mm
Capacity: 21+1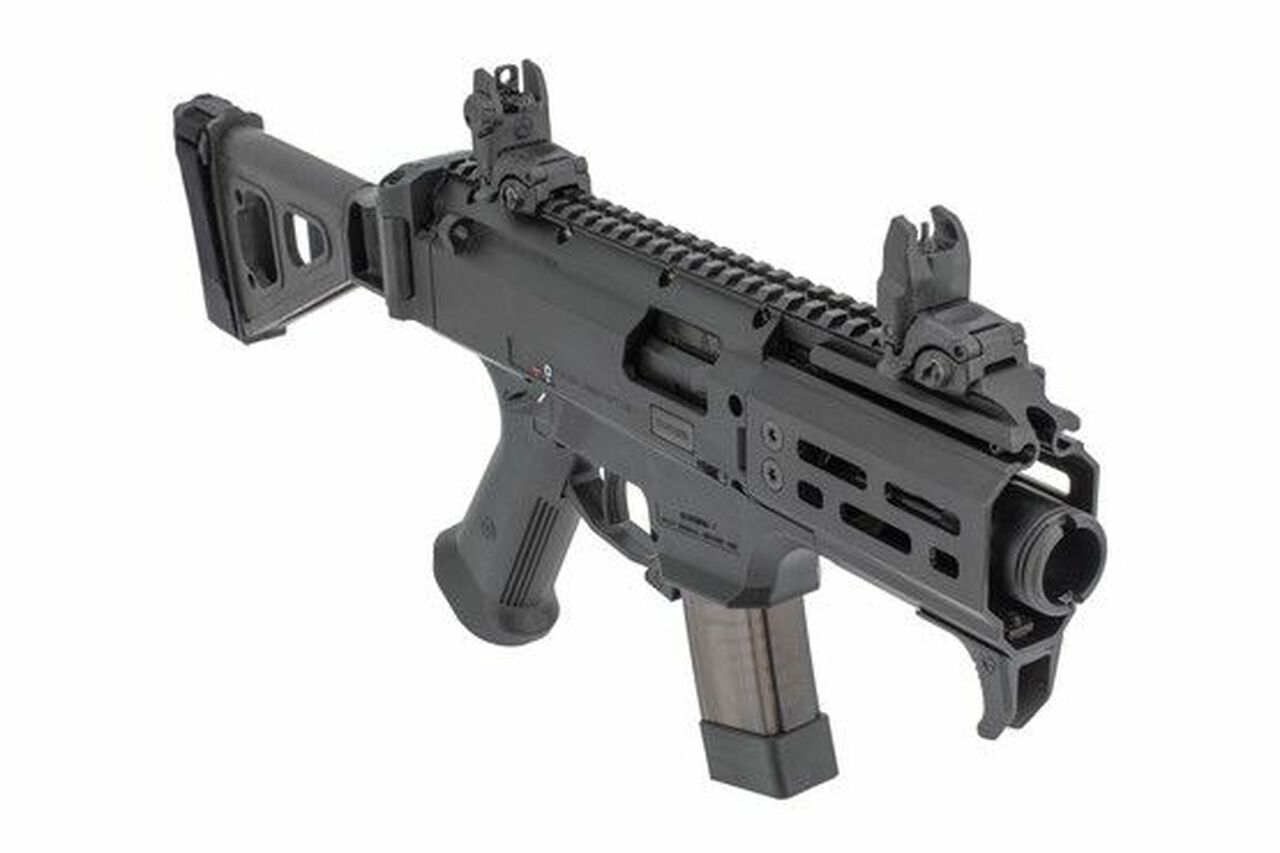 If you're planning on putting the gun in a bag, backpack, or briefcase to carry with you, it will definitely work for that, but there are probably better options.
The gun is rather heavy for a 9mm pistol and it is competing in a packed market with the likes of the B&T APC9K.
It's very wide when folded (and even when not folded). Considering the size of this gun, you'd be better off using something like a SIG Rattler in 300 Blackout or a 7.5″ or 8″ 300 Blackout AR-15 Pistol with a law folder. These options will be ballistically superior and roughly the same size, maybe even a bit slimmer in profile.
Workhorse or Range Toy?
The CZ Scorpion Micro is a fun gun and one you might want to add to your collection. If you're trying to justify purchasing this gun as a hard-use weapon that you'll employ as a PDW, there are better options on the market.
But if you're looking for an entertaining range toy or a cool gun to show your buddies, you're going to be hard-pressed to beat the CZ Scorpion Micro.
It's an incredibly cool-looking gun. And there are a ton of aftermarket accessories, so you can really make it your own. Most importantly, they're very reliable weapons.
It's a great gun, but frankly, it's probably 30 years past its time. It definitely takes advantage of new cool polymer material, but it doesn't take advantage of any new advances in the firing system itself.
Guns like the Sig MPX Copperhead or even the Stribog seem to have lower recoil than the CZ Scorpion Micro and are more fun to shoot. If you're trying to shoot at a high level, it really would have been nice to see CZ update the firing system to some extent to make it more enjoyable for the shooter.
If you're a huge fan of CZ's you've likely already heard of our even own the CZ Shadow 2 or the CZ P07.
CZ Scorpion Micro
Action: Semi-Auto
Caliber: 9mm
Capacity: 21+1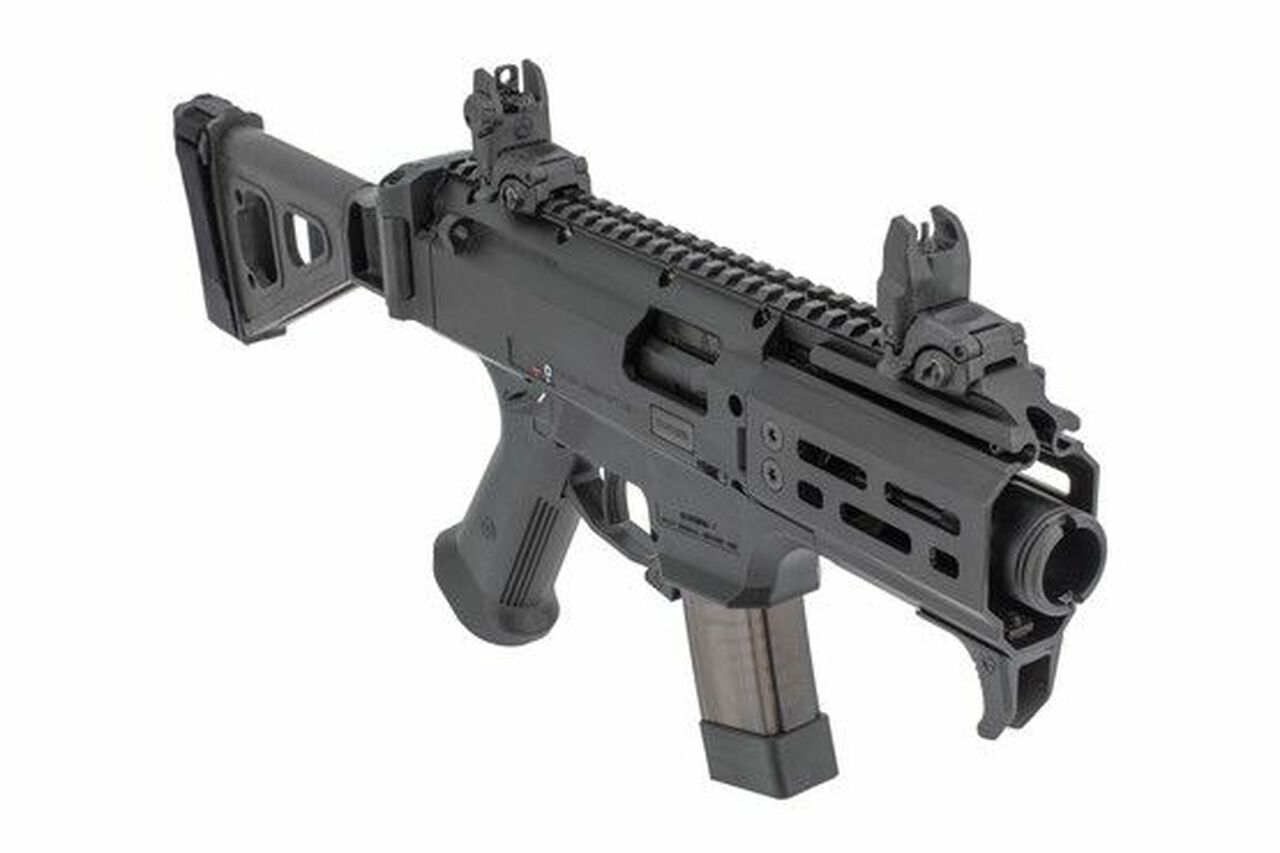 However, if they would've done that, this bad boy would probably be a lot more expensive than what it is currently.
I don't plan on selling mine, but your mileage may vary whether or not this is the right gun for you.