One business perk I didn't plan for when I started Lynx Defense was checking out new equipment to see how it worked with our gear. I've been exploring the pistol caliber carbines (PCCs) for our new covert rifle cases, and one gun I've been keeping an eye out for is the Palmetto State Armory AKV 9MM. While the PSA AKV is not a brand-new firearm, it is one I'd be eyeing to pick up if I was in the PCC market.
In the current firearms frenzy, the PSA AK-V has been hard to come by, and even when they are in stock, they sell out almost instantly.
Fortunately, I got my hands on one thanks to a tip from the AK-V Facebook group, so after I put a few hundred rounds through it, I thought you might want to hear what all the fuss is about.
AK-V Features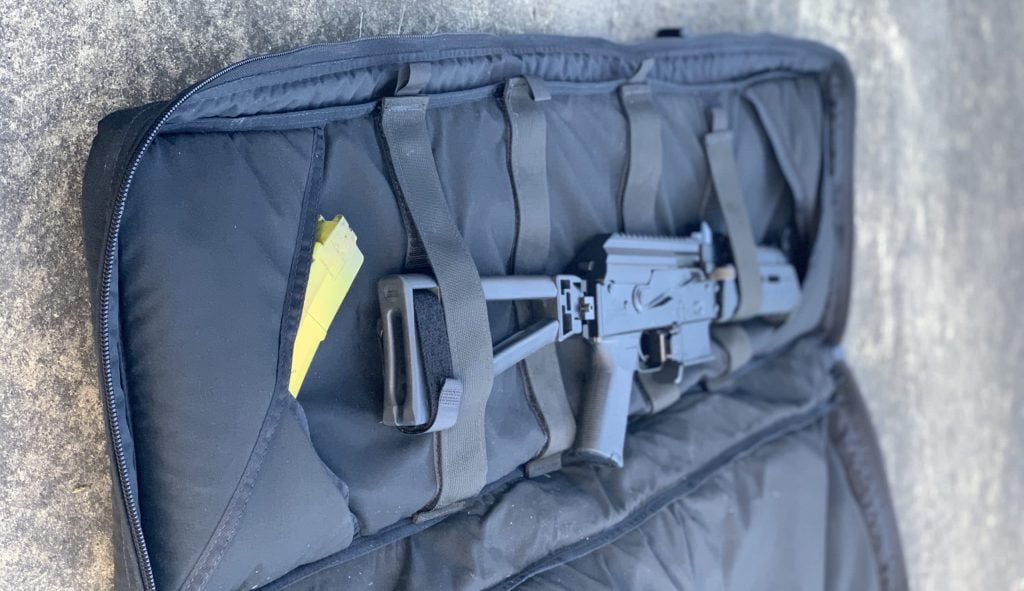 The Russian Vityaz inspires the AK-V, but unlike the Kalashnikov USA KP-9, it's not an exact copy. PSA kept the American consumer in mind when building this pistol and tailored it with key features in mind.
Safety
First, the PSA AK-V safety is a selector switch that you would normally find on any AK-style rifle. But there's one important difference – it has an index finger tab. Much like the Krebs Custom AK safety, this feature allows the shooter to engage and disengage the gun's safety with their index finger.
This is a big improvement over the standard option because, unless you're Shaq, you typically have to remove your hand completely from the grip to disengage it. The AK-V's design allows most shooters to maintain their grip or at least most of it. This a major improvement, so kudos to PSA's design team.
Pistol Grip
While unremarkable in itself, the AK-V is equipped with a Magpul AK grip that is standard for most firearms of this kind.
However, it will accept any AK-style pistol grip, so you have the option to up the gun's cool factor with a retro-bakelite grip, wood, combloc polymer, or any other modern style grip if you so choose.
Since the gun is made in the USA, changing out the furniture won't affect 922R compliance like it would with a parts kit build. PSA offers multiple furniture configurations depending on the model you buy.
This is one of the few stock grips I don't feel like I need to run out and scoop up a replacement to make the grip bearable, looking at your AR's manufacturers.
Magazine Release
The magazine release is a paddle-style release and works well for both right and left-handed shooters. Its positioning is that of a normal AK rifle – directly in front of the trigger guard. One disadvantage to it, though, is you can't reach it with your trigger finger.
It's still straightforward to use and, if you're buying an AK derivative gun, sub-second reloads probably aren't your priority. I can't quite tell if the magazine release is metal or plastic, but it feels sturdy.
I don't think it matters what the material is because I believe it will withstand extended use.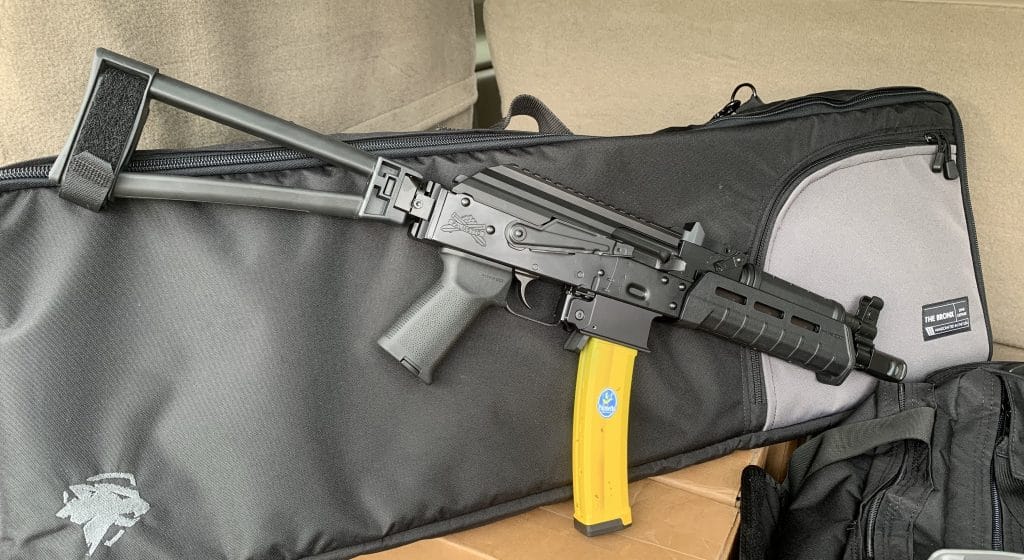 Magazine Well
In the world of extremely flared magwells, this probably ranks low. It's somewhat beveled, so it's not going to funnel your magazine into the magazine well like a modern sporting rifle flared magazine well, especially on a billet AR-style lower. The magazine well is made of metal, which gives the gun a higher-quality feel.
Also, the AK-V accepts the CZ Scorpion magazine pattern magazines. This allows owners to get magazines from multiple sources, including my favorite – the PSA AK-V banana magazine.
Not only do PSA and CZ make compatible magazines, but Magpul and Prepper Gun Shop both make magazines for them as well.
Plus, if standard capacity magazines aren't enough, several drum-style magazines fit the PSA AKV available from X-Products, Magpul, and PSA.
Bolt Release/Hold Open
One major advantage of using CZ Scorpion magazines is that it allows the gun to lock the bolt back after the last round has been fired. This is not the case for the competing Kalashnikov USA KP9. The bolt release is positioned on the left-hand side of the magwell in case you don't want to use the charging handle to release the bolt.
This is one of my biggest complaints about the AK-V. Functionally, the bolt release works just fine. It's low profile and easy access for a right-handed shooter to access the release with their left thumb after inserting a magazine.
It does, however, seem like this part of the design was an afterthought, and it could have been an opportunity to tie the whole piece together. Don't get me wrong, it's functional, and it works. It just seems out of place on this gun.
Charging Handle
The charging handle is one of my favorite things about the PSA AK-V! It sticks out far enough to grab it on the fly without feeling awkward or off balance. There's not much resistance when you go to pull the charging handle, so chambering your round and releasing the bolt lock is a breeze.
Configuration
One of the most difficult things about buying a PSA AKV is the number of options PSA gives you. You can pick a different brace, color, and handguard. The customizations alone make selecting the right AK-V for you difficult, not to mention availability during 2020's Gunpocalypse.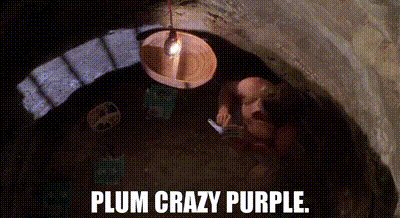 But if you are like Joe Dirt and dig that plum crazy purple gear shifter handguard, PSA has you covered!
Personally, I got the triangle folding brace, and I love it. But it is tough to unlock from either the folded position or the extended position thanks to the unlocking mechanism that PSA uses.
Now that I have gotten used to the folding stock it becomes easier but at first, it definitely wasn't user-friendly.
While the triangle stock is the more stylish option if you are looking for something you can quickly deploy, I would suggest another brace option. But I love the way it looks.
Iron Sights
I'm a big irons-as-backup-sights-only kind of guy. Because the benefit of fast target acquisition and ease of use with red dot sights is hard to overlook.
The PSA AKV iron sights are on par with any other AK variant. The fixed front sight allows for a decent target picture and target acquisition, but there's really nothing to write home about with them.
AK-V Optics Mounting
The rear cover features a 1913 rail that allows you to mount any optic you want, making your options for AK-V optics limitless when it comes to 1913 optics.
But a warning to any AK geeks out there, you won't be able to use your combloc side rail mounted optics, like the Kobra.
Recently, I reached out to the PSA AKV owner's Facebook group to see how everyone was mounting their AK-V red dot sights. I think my personal favorite was the lower 1/3rd co-witnessed red dots like the Sig Sauer Romeo 5 or even mounting a pistol optic like the Trijicon RMR's.
If you go the RMR route keep in mind you'll need an RMR picatinny mount to mount it.
Accessory Mounting
Mounting accessories on the AK-V really comes down to what furniture options you choose. Mounting things on the front of the gun, such as lights, slings, or other accessories, become more complicated.
Your PSA AKV setup will be largely dependent on what handguard you choose, but you can switch out your handguard down the line if you want more accessories.
AK-V Trigger Pull
The trigger on the AK-V is comparable to that of any standard AK variant. While its take-up is smooth and the wall only lightly defined, the break is crisp and clean. The reset isn't short, but it's not a full reset either.
I picked up an ALG trigger for the AK-V and may report on my findings after installing it. This single-stage AK Trigger should be a nice upgrade for the AK-V.
But I didn't buy the ALG trigger because I'm dissatisfied with the stock PSA AKV trigger, rather I just enjoy customizing my guns.
Shooting
The best part of the AK-V is shooting it. That's true of any firearm, but the AK-V is a dream! The break allows the AK-V to shoot with negligible muzzle rise. Like most of its competitors, the AK-V uses a blowback recoil system, but it's much lower recoiling than the rest of the field.
Keeping the gun on target is as easy or easier than a compensated 5.56 AR without the concussion that typically comes with compensated rifles. Most blowback 9mm sub-gun clones have a lot more recoil than a standard AR15 in 5.56.
The gun also lacks the concussion of the shorter barrel 9mm carbines where the muzzles don't extend as far from the face (Yes, I'm talking about you Sig Copperhead!). This makes the AK-V an ideal gun to start newer shooters on if you want them to have something a little more exciting than a .22LR.
Early Problems with the AKV
Early in the AKV's release, it had a number of issues that PSA has since fixed.
Military arms channel noted a number of issues they had with the AKV namely failure to eject and failure to go into battery.
PSA addressed the issues in a YouTube video where they noted some of the bolts they got from their supplier were not up to their specifications.
They have since been corrected and I have not seen any of these issues with my PSA AKV.
Shooting the AKV Suppressed
I finally got around to putting on the 3-lug mount onto my AK V!
I'm not sure what I was waiting for… but I have been busy, so let's go with that excuse.
Shooting the PSA AKV suppressed is great. It seems to be gassed great running the SilencerCo Octane 9 2.0.
The crack of the 9mm is extremely reduced but is still there shooting 115 grain supersonic 9mm ammo.
I'll report back after I'm able to find some 9mm subsonic ammo to test the AK-V with, I expect it to cycle fine but we shall see.
Carrying the AK-V
When it comes to transporting your Palmetto State Armory AKV you want to ensure it's secure and protected.
Using one of our discreet carry cases is perfect for this 9mm carbine. You can even use our backpack PDW insert with the AKV.
PSA AKV Price
The PSA AKV is currently in flux in that the price varies from model to model, but as of August 13, 2020, you can expect to pay around $1,000-$1,100 for any AK-V configuration from Palmetto State Armory. This is obviously extremely dependent on supply and demand, so the price is subject to change at a moment's notice.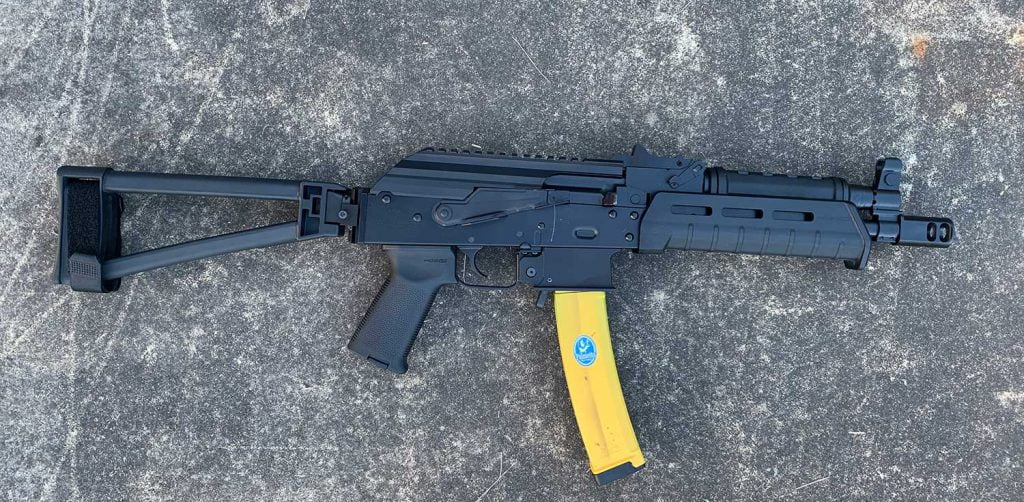 In Conclusion
Buy the PSA AKV.
The only regret you'll have is how much you'll have to spend on ammo to get your fix shooting this fantastic firearm.
If you want to take a look at other PCC's check out the Aero Precision EPC. If you are into classic subguns chambered in 9mm the Century Arms AP5 is a classic. If you want to see another great PSA product take a look at our review of the PA-10.
If you are looking for something more 7.62 x 39 but still compact take a look at our PSA AKP review which is their 7.62 x39 version of the AKV. Take a look at our guide on the best AK-47's on the market.
[Review] PSA AKV | Is the AK-V the Best AK9 on the Market?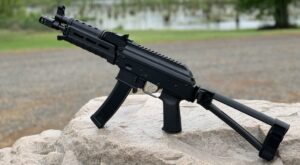 We review the Palmetto State Armory (PSA) AK-V 9MM after we put a couple of hundred rounds through it! See how the PSA AKV holds its ground.
Product Brand: AKV
Product Currency: USD
Product Price: 959.99
Product In-Stock: InStock