Strum Ruger & Co.'s Mini-14 is a timeless rifle that has been a favorite of farmers and tactical teams worldwide. Chambered in the popular .223/5.56 round, it has a broad spectrum of uses.
This is our Ruger Mini 14 review, and if you are wondering how it compares to the modern sporting rifle or the AR-15, see our Mini-14 vs. AR-15 comparison. This isn't our only Ruger review, take a look at the Ruger Mark IV 22/45 Lite and the Ruger SR22.
History of the Ruger Mini 14
Released in 1973, the Ruger Mini-14 was the brainchild of Bill Ruger, who designed the firearm along with Jim Sullivan. Interestingly enough, Jim Sullivan is most famous for his work with the Mini-14's main competitors, the AR-15.
Mini 14 Military & Government Use
The Mini-14 was originally marketed to both sportsmen and government agencies, like the military and police, during its early days. Initially, Ruger's goal was to develop the Mini 14 to get military contracts due to the initial issues with the AR-15 or M-16, but that never went anywhere.
The Mini-14 has been adopted by some small foreign militaries and coast guards that predominantly haven't been involved in a conflict. However, Rhodesia used the Mini-14 during their Bush War.
Domestic police agencies here in the US, from small Sheriff's Offices to Departments of Corrections, have adopted the Mini-14 and used them for years.
Many agencies adopted the Mini 14 because they were cheaper than AR15's, like the Colt SP01 during that time period. They were also considered less militaristic, thus less intimidating to the public.
There have been numerous Mini 14 variations since 1973. And it has had its fair share of issues including accuracy and reliability, but the Mini-14 we are talking about today is a current production version.
It's important to note this because the current production Mini-14's seem to have shed the issues of the past.
The current Mini 14 is an 18.5-inch ranch rifle with a 1/9 twist. The 18.5-inch ranch rifle is what many would call featureless; meaning it doesn't have a pistol grip, flash hider, or bayonet lug.
This makes it a great stand-in for the AR-15 in certain states like California, where they might have unconstitutional and restrictive laws. 
The Mini 14 in Popular Culture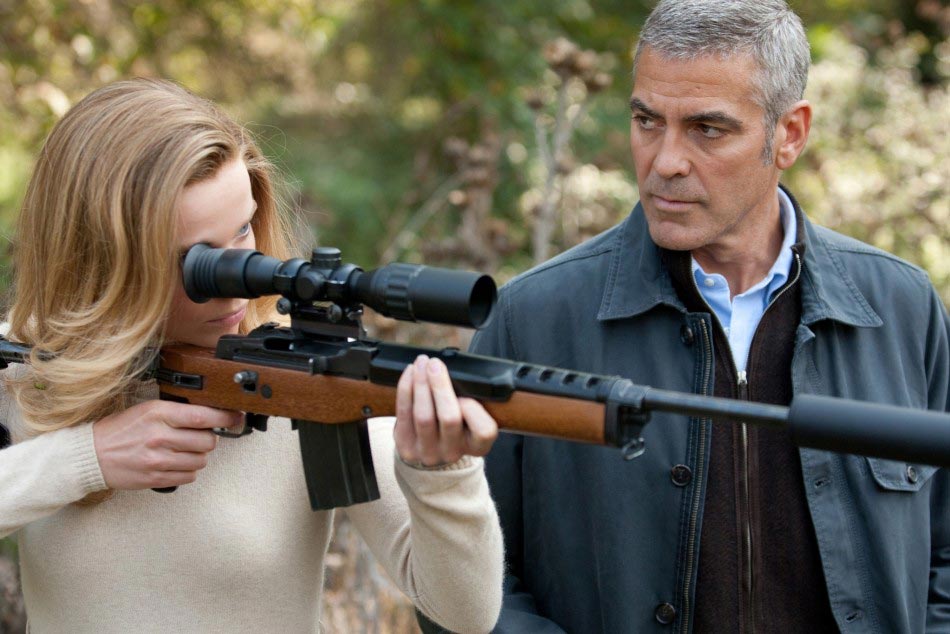 If you watched the A-team as a child, you would probably remember Hannibal Smith and Mr. T using Mini-14's in a lot of the scenes.
They were using the Mini 14F which was a semi-auto stainless steel gun with a folding stock. Full auto was added in post-production, giving the guns the appearance of the Ruger AC556.
This is just one example of the Mini-14 in popular culture, but it's the most prominent in my mind.
It was an insanely popular prop gun in many 1980's productions. Plus, there is a lot of history behind the Mini-14. It was a staple before AR-15s became widespread for people wanting a .223 semi-automatic rifle for hunting, self-defense, and the fight against tyranny.
Ruger Mini 14 Features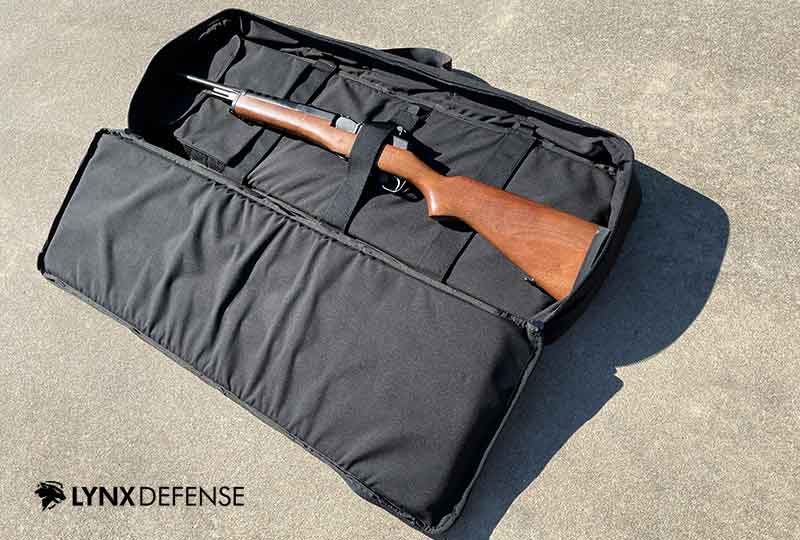 The gun is a scaled-down version of the American M-14, which is based on the classic American M1 Garand. It has some holdover features from that gun that are outdated by today's standards. 
Safety
The most outdated feature has to be the safety that resides within the trigger guard.
The safety itself is a piece of sheet metal.
To disengage the safety, you must stick your hand inside the trigger guard and then press forward with your trigger finger to disengage.
To re-engage the safety, you must put your fire finger in front of the trigger guard and push the safety back. I think we can all agree, it's outdated by today's standards.
The good news is the safety can be used equally well for both right- and left-handed shooters.
It is somewhat of an ambidextrous feature even though it slightly favors right-handed shooters.
Stock
This gun does not have a pistol grip like most modern semi-automatic AR-15 or other rifles in that category like FN-scars, FN-Cs, Bushmaster ACR, etc. This rifle instead has a traditional wooden stock that you would expect to find on a bolt action hunting rifle.
Ruger does make variants of the Mini-14 and Mini-30 (7.62×39 variant) that have tactical-style folding stocks with picatinny rails. There are also a variety of companies that make aftermarket stocks for the gun.
When you add the modern tactical style stocks the gun, it loses a lot of its charm, in my opinion.
The old-school look also looks less menacing to people that know nothing about guns. Keep in mind this shoots the same round as any modern sporting rifle, better known as the AR-15.
Magazine Release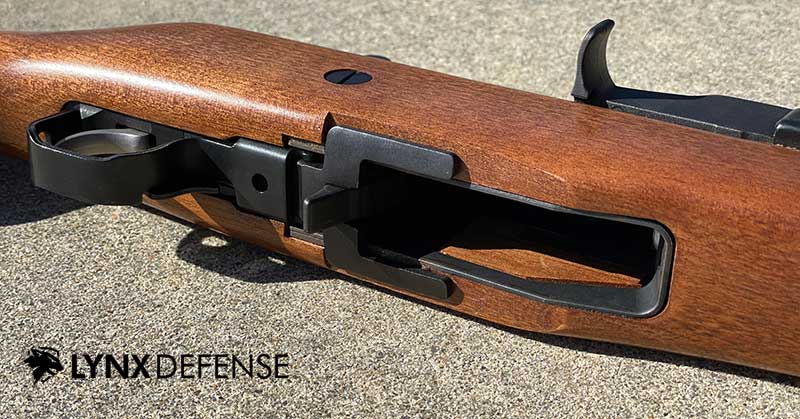 Part of the design of the Mini-14 is the rocking magazine, so the magazine inserts as it would on an AK-47.
For you to load a magazine, you have to insert the front of the magazine at an angle and rock it back into the gun so that a latch catches it.
If you miss the reload, you can lock the magazine without having it in the correct place to feed the gun. It's easy to see when it's out of place but you'll need to practice to make sure you don't lock the magazine wrong under stress.
To unload the gun, you can't press the latch and hope that it drops free if you are perfectly aligned with gravity.
But you can reach that latch with your trigger finger without breaking your grip completely. So, it is easier just to use your support hand thumb, grab the mag, strip it away as your thumb presses in on the mag latch. 
Mini 14 Magazines
The gun takes five, ten, twenty, and thirty-round magazines as well as 100-round drum magazines. The 100-round drums were made by Beta C-Mag and I am not sure if they are still in production, but Ruger and Pro-Mag both make a variety of magazines for the gun.
In some states like New Jersey, where there is a 15-round limitation on mag size, you can buy conversion kits that can render twenty and thirty-round mags into 15-round mags.
I think the sweet spot for this gun is the twenty-round mag. The reason I say that is because even though it has less capacity, it really decreases the size in just the right places and makes it an even more handy little gun.
The ten-round mag is just a tad bit short to get a good grip on when you are trying to load or unload the gun, and the five-round magazine sits flushed within the mag-well.
There is metal support around the stock, so you don't have to worry about wearing out your wooden stock from inserting your magazines. In my opinion, this gun definitely works best with the twenty-round magazines.
Use this gun as a fifty-state truck gun, something that is legal in all fifty states, be sure to verify that in all states before you travel with a Mini-14.
I would probably run twenty-round mags with ten-round limiters, so you get a total of ten rounds per mag, just because they are a little bit easier to load into the gun and to get out of the gun.
This might be a little risky considering some state infringement laws, as they might consider it a high-capacity magazine depending on which way the wind blows that day.
Charging Handle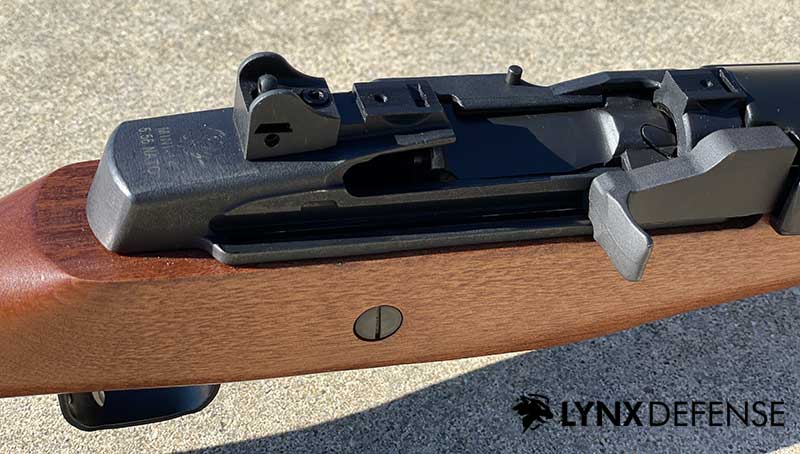 The charging handle on this gun is straight from the M14 and M1 Garand. When you pull the charging handle back, it rotates the bolt reciprocates when firing. Ergonomically it is very similar to say an AK-47. You can use it as a right-handed shooter, or you can use it as a left-handed shooter.
If you're a right-handed shooter, obviously you'll have to roll the gun to access it with your support hand since the charging handle is on the right side. I would consider it more friendly for a left-handed shooter to use since they can just come back with the support hand and rack the charging handle.
There is a bolt hold-open button on the top left-hand side of the receiver that you can press down on and lock the bolt back to the rear. It is a really small little round button that stays out of the way quite well but also seems out of place. The button does not do anything to drop the bolt.
When your magazine follower locks the bolt to the rear, you will want to eject the magazine, and then when you are loading in your new mag, to drop the bolt you are going to have to rack the charging handle.
Overall, the charging handle gives you a nice nostalgic feel when using it.
Handguard and Stock
Now the Mini 14 handguard portion of the stock extends roughly halfway up the barrel and then extends all the way into your shoulder in a continuous wooden piece.
The length of pull on the stock is a bit longer than most people would prefer to shoot more modern AR-15's.
It would be nice to see a cut-down youth version that I think most people would actually like.
You can get a stock system from Ruger or from many aftermarket companies that allow you to adjust the length of pull on the stock, but that takes away a lot of the gun's old-fashioned feel.
It also takes away the low-profile non-tactical nature of the Ranch model of this gun.
Sights
The gun comes with a set of peep-iron sights that are actually quite nice and are just like what you would see on an older-style rifle.
It has a winged front and then a peep rear that is adjustable for both windage and elevation. The front sight is not adjustable. 
Mounting Optics
Mounting optics on the Ruger Mini 14 is fairly easy. In both the front and the rear of the ejection port are built-in mounts to the receiver that will accept a Ruger ring pattern that they make for most of the rifles like their Ruger No. 1.
There are companies that make quick-detach (QD) versions of this and then also make screw-on attachments.
The QD mounts are really nice if you want to add a one-to-four scope that you can then take off and use your iron sights. Some of the rings will allow you to co-witness your iron sights through a hole in the ring and below the optic itself. However, you may have some cheek weld issues with the optic doing that.
Personally, I plan to add a Leupold fire-dot optic that weighs in right around 12 ounces and some QD rings just because I think that 1.25-4 optic will do really well on this fairly light and handy rifle.
Now if you want to mount more accessories than just an optic, that is when the Ruger Mini-14 starts having its downsides. Of course, the more modern stock option will allow you to mount whatever you want at the front of the gun and also offer you more sling mount options at the rear.
You can also mount a red dot sight like the Holosun HS403B or Sig Romeo 5.
Sling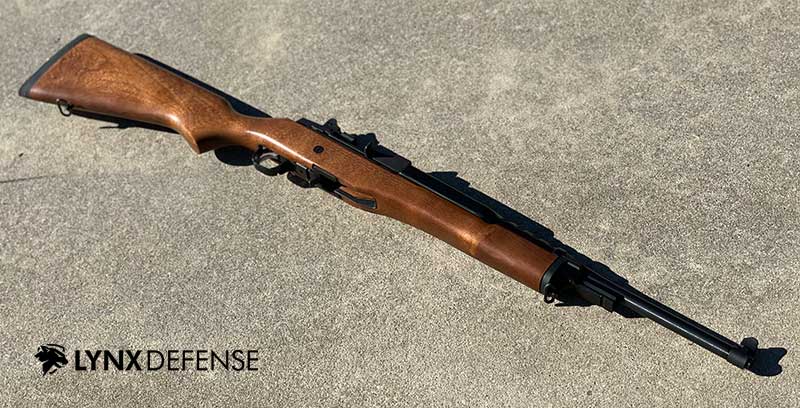 In its original stock format, there are two sling loops that are 1.25 inches wide. One at the front of the gun and one at the rear of the gun sitting on the 6 o'clock position of the stock.
This is good if you just want to throw the gun over your shoulder old-school style, but if you want a sling that will allow you to keep the gun slung on your chest, you will have to come up with another solution like wrapping a paracord in some certain places. So you can mount the sling on the side of the rifle vs the bottom.
Paracord sling mounts could become an issue on the front of the gun if you plan to use the iron sights. If you plan to run a red dot, low power variable optic, or something similar, you should be able to get something low profile enough that it won't block the view or your sights.
Lights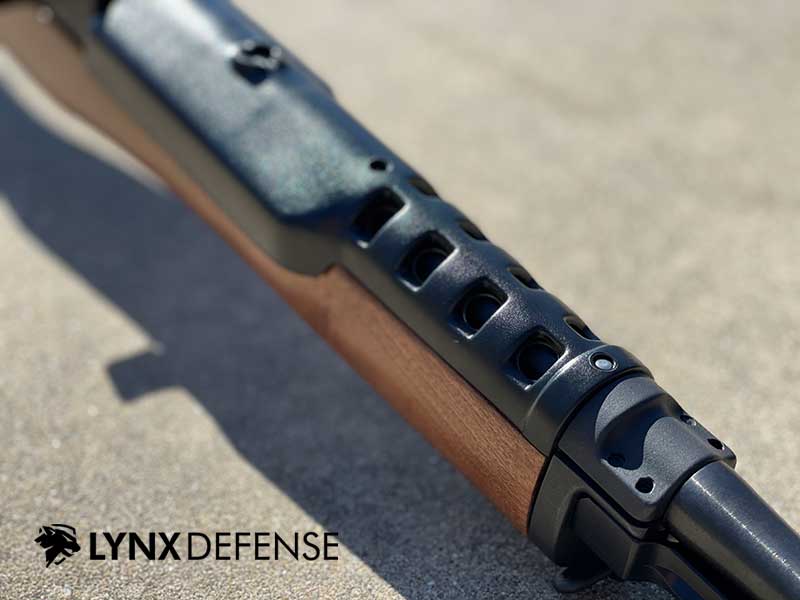 If you want to mount a light on this gun, there is really only one option with the wooden stock. Both Skinner Sights and The Arms Room make light mounts that sit in front of the handguard mounted underneath the barrel.
They were designed around pistol lights like the Streamlight TLR series and the Surefire X300, but I don't think those would be the best lights for this gun. I will probably mount an offset QD mount that I can take off anytime and then add a Modlite OKW flashlight.
Setup with a push-button for light activation it's a solid light setup for target identification. The QD mount would make it easy to take the light off giving the gun a less tactical look. 
Trigger
As far as the actual trigger pull on the gun, the trigger has a little bit of take-up and then you feel some creep before it goes into a rolling break.
There is no wall on this gun, and you can't really tell where the wall would be if there was one. So, if you like a gun with a wall, this probably isn't for you.
As far as the reset goes, it resets halfway through the original take-up. So, you have that little bit of take-up after the reset, and then you have the creep that goes into the rolling break.
Personally, I like this trigger for shooting fast and on the move within a 100-yard range. It is just heavy enough that you are not going to shoot unintentionally, but it is still light enough that you can get decent enough splits. =
Are you going to be doing sub .2-second splits with this gun? You could, but most people probably won't be able to attain that with this trigger. You can easily get three to four rounds off in a second.
Ergonomics
As far as the actual ergonomics of the gun, it is just long enough to work for most people as far as how they support their hand at the front of the gun. =
The length of pull on the stock is definitely too long for most people who nowadays are used to shooting AR-15s with a more squared-up style.
If you shoot with an older bladed style, you won't find any issues with the stock's length of pull. There is a nice rubber butt pad that helps with the minimal amount of recoil generated by the gun.
Shooting the Mini-14
Shooting the Mini-14 is really quite fun. When I first got this gun, I had no idea that I would like it as much as I did.
I am really used to shooting AR-15's, and as you know there is really minimal recoil.
I did not expect the Ruger to come anywhere close, but in a way, it may be more fun to shoot than an AR-15.
A lot of that is the nostalgic effect, but similar to shooting some 22LR rifles or something that just shoots good, it balances really well and you have no problems picking off targets at a natural pace.
It's very quick to get a sight picture with the iron sights and they just fall where you want them.
With iron sights, this gun honestly just performs better than most AR-15's set up with iron sights.
If you were to bench rest it, the AR-15 is probably going to win in most cases, but as far as picking up targets quickly from the standing or kneeling position, the Mini-14 has a lot going for it.
After the recoil, the sights seem to settle right back where you fired. There is movement in the gun, but it does not recoil hard. You'll likely find that you aren't going to be able to shoot faster than the gun wants you to shoot it.
Ruger Mini-14 Case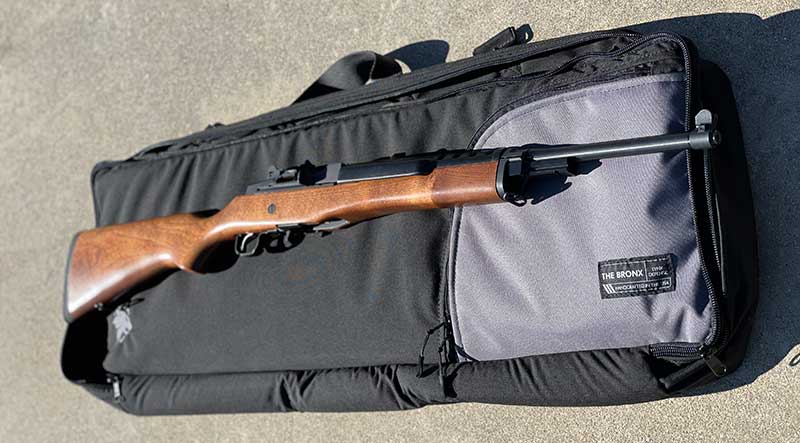 I experimented with the Mini-14 by using our rifle cases to determine which one worked best for the Ruger Mini 14.
We started with our discreet rifle case line, our most popular rifle cases, and quickly realized that the Bureau did not work since the overall length of the Mini was more than 30″. The Bronx fit the Ruger Mini 14 snug.
The Ruger fits the 42″ tactical rifle case just fine. The 42″ case obviously had more extra space for the rifle, but both worked equally well so it comes down to personal preference if you like a tactical style case.
Closing Thoughts
In closing, I think the Mini-14 is an absolutely awesome gun if you want something that you can use in multiple states or you want something that is a little more old school.
If you expect it to replace your AR-15 with its high round counts and tons of modular accessories, this is not the gun for you.
If you want something that is old school and you don't expect this rifle to be more than it is, you are going to love it.
One thing I really don't like about this gun is the price. The market on them right now is around a thousand dollars, which is frankly a little more than it should cost. I feel like a fair price for these guns should come in at around $750.
Buying a Used Mini-14
If you are buying one on the used market, you have to be careful because many older versions have some accuracy and reliability issues that the new ones do not. Even with the current models, you will want to shoot 62-grain or lighter 5.56 round in this gun because of the 1/9 twist.
Is the Ruger Mini-14 for you?
Overall, as long as you have realistic expectations of this gun, I think you will be quite happy.
Would I take it over an AR-15 for a home defense gun? No. Would I take it and feel absolutely fine using it? Yes, and if I were in a state or an area that was restrictive and I think the type of gun I'm using may be used against me in court even though it is not supposed to, I would have no qualms using a Mini-14 in that scenario.
As long as you don't want it to be an AR-15, you'll be very happy with the Ruger Mini -14 Range Rifle. If you like this style of rifle be sure to also take a look at it's "little brother" the Ruger 10/22.