The Sig Sauer MPX Copperhead is one of the latest pistol caliber carbines (PCC) to come on the scene.
The Sig Copperhead brings an extremely compact 9mm to the market.
It was initially released in FDE only with a blunderbuss prong looking muzzle device that was built into the 3.5 inch barrel. 
We're reviewing the updated version.
The same brace configuration, but it's black and comes with a 4.5 inch barrel and an A2 style flash hider instead of the original Tan Sig Copperhead's blunderbuss muzzle device.
Sig MPX Copperhead Features
Safety
The Sig MPX Copperhead has an improved AR15 style Ambi Safety that's super easy to disengage and re-engage. The right side safety is shorter than the left, so it won't rub on the knuckle or palm of your hand. Sig did a great job making a superior AR15 style safety that fits the gun perfectly.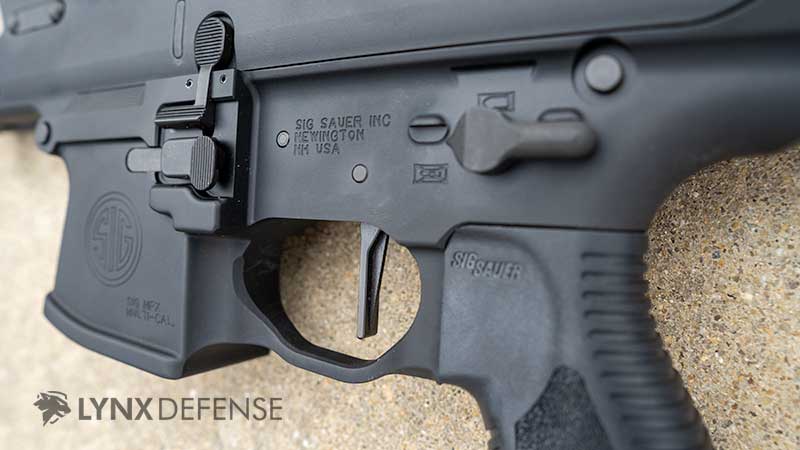 Trigger
The MPX trigger has a slight bit of creep, then a nice short and light rolling break with a soft but positive reset. It's a good trigger for a stock gun, especially in a PDW format like the Copperhead where a match trigger isn't needed. But if you're a trigger snob like I normally am, you can always upgrade to the Geissele Sig MPX SSA trigger or the Timney Sig MPX trigger.
Are these triggers needed on a gun you're most likely to be using within 25 yards? No, but they are likely to increase your split times, which means more rounds on target in a shorter amount of time. That said, we had no problem getting sub .2 second splits with the stock trigger. Honestly, this is one of the best non-match grade stock triggers I've felt in an AR15 style rifle ever.
Pistol Grip
It has an AR15 compatible pistol grip, so your options are infinite. But this one is short and compact like the rest of the gun.
Personally, I don't care for the look. I'll probably replace it with something like the Magpul K grip that'll still be nice and compact but won't look as animated as the Sig MPX Copperhead's stock grip.
Bolt Release/Hold Open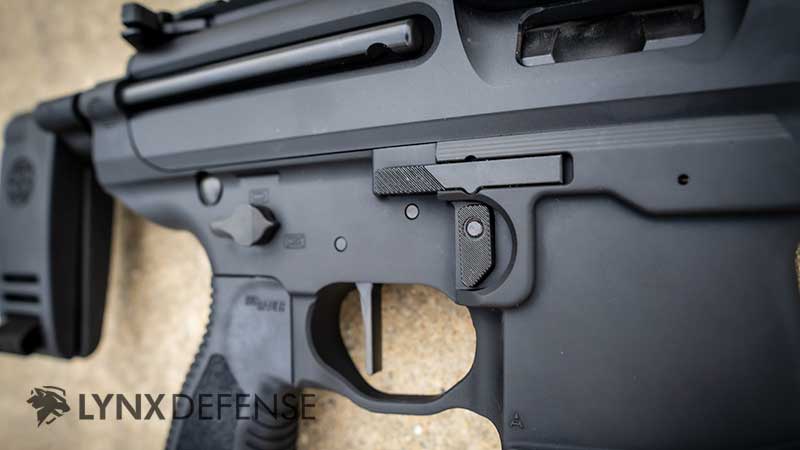 The Sig MPX Copperhead's bolt release is ambidextrous but can only be used as a bolt hold open on the left side like a standard AR15. The small textured section used to hold open the bolt is hard to reach due to the left side mag release extending out farther. The real benefit is the ambidextrous bolt release.
As a right-handed shooter who shoots a variety of guns and has a lot of time behind AR15s, I don't find myself using the right-hand side bolt release even though it can be faster. If you're not regularly training around the Sig Copperhead's right side bolt release, it's not easy to drop the bolt. It's one of those things where you have to press it just right because it's fairly narrow and recessed into the receiver. If the Sig MPX was the only platform I was using, then I would definitely start using it regularly. But since it's not, I'll use my left-hand thumb to activate the AR15 style release that I'm intimately familiar with.
Magazine Release
It has ambidextrous mag releases that are easy to reach with either hand and are still low profile, remaining true to the copperhead's PDW design. As long as the gun is pointed straight up, the magazines drop free using both the right and left side release. For most people, it's easy to reach but if you have really small hands it might be a stretch.
Magazine Well
The mag well is beveled for easy insertion of the single 20 round magazine included with the gun. It'd be nice if the gun came with another magazine, but the 20 round magazine really is the best option for the Copperhead variant of the MPX if you're using it as a PDW. It'll accept 30 round magazines as well, but in my opinion, they're too bulky if you're running the Copperhead as designed. Keep a 30 round mag in a G Code Scorpion Tall Pistol Mag Pouch or an HSGI TACO for a reload, but I wouldn't run it as your primary. The magazines themselves are made by lancer and bomb proof but that comes at a literal cost. Magazines for the Sig MPX run $59 plus, so if you're the type guy who has to have 10-20 magazines for your Copperhead, you'll need to take that into account.
Charging handle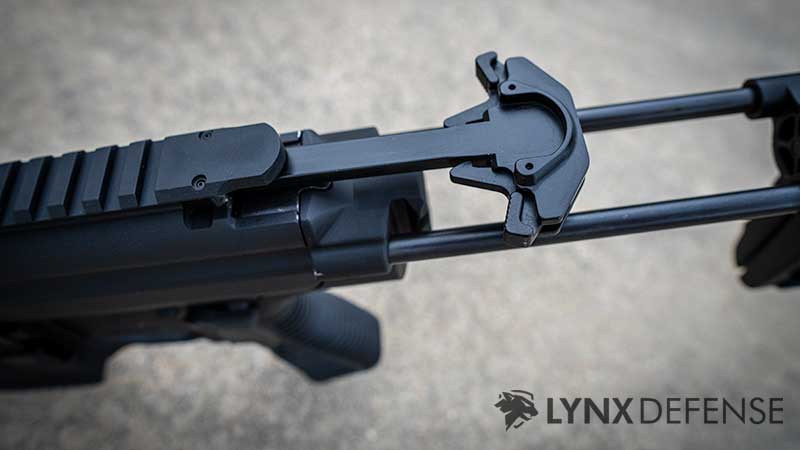 The Sig MPX Copperhead has an ambi AR15 style charging handle. The ambi feature is well done but nothing exceptional. If you're looking to upgrade your Sig MPX Copperhead, Geissele makes a Sig MPX version of their Super Ambidextrous Charging Handle that'll fit the Sig Copperhead. But this isn't going to be an item you're using a lot on this gun, so it's probably the last item I'd upgrade.
Sights
Really the lack-thereof. The MPX Copperhead doesn't come with iron sights or any type of optic. I put the Sig Romeo 5 on it, and it works like a dream. I think for the price point Sig could have included some type of optic or sight out of the box. Granted, I would want some type of small red dot sight over irons given how short this gun is. With a set of Magpul MBUS Pros running roughly the cost of the Sig Romeo 5, it would have been nice if the gun just came with a Romeo 5. You are going to want an optic riser on the optic though so you can comfortably pick up the dot.
Pistol Brace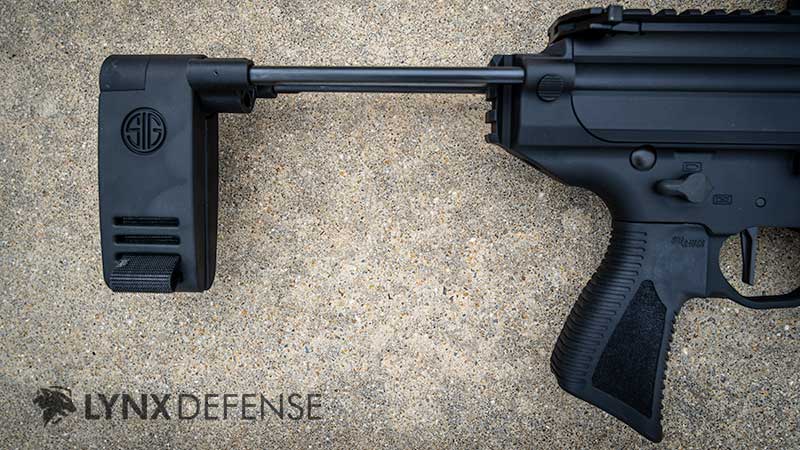 The brace on the Sig MPX Copperhead is extremely compact and quick and easy to deploy. There is also enough friction on the bars of the brace that it'll hold the weight of the gun. Granted this gun is used but hasn't had the brace collapsed and pulled enough to wear the finish down. I suspect once the finish has worn down on the rails; it'll no longer hold its own weight. To collapse the brace, you press a button conveniently located on the right side of the gun near the base of the brace, so it's really easy to stow the gun back in its discreet backpack, satchel or briefcase.
This model saves a lot of space by machining the rail mounts into the lower receiver so you have a really compact little package considering the overall size of the original Sig MPX. For a true PDW, it's great but for plinking on the range it could have a longer length of pull and the brace portion could be less flimsy and not rotate 360 degrees. If you want to remove the brace you can replace it with the SB tactical M1913 folding brace. Sig also has a similar version of the brace that they use on Sig MPX K and the Sig MCX Rattler variant.
Mounting Accessories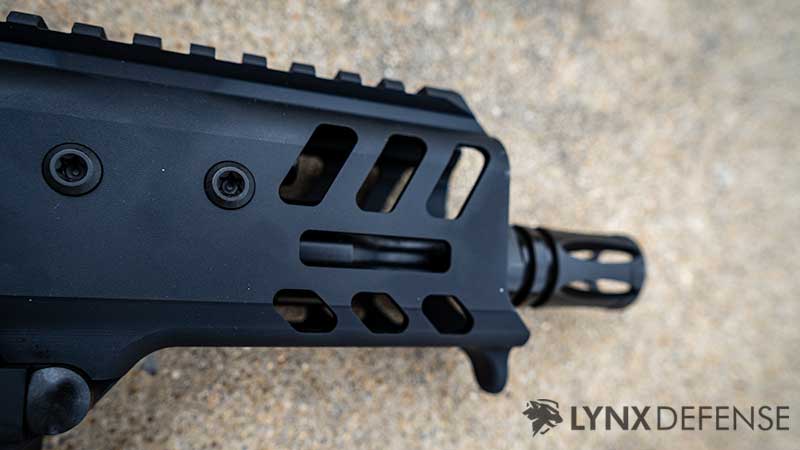 The standard Sig MPX K has a removable handguard that you can replace with a longer one that'll fit over suppressors and will give you a little more reach on the gun. I've got a Lancer Systems Sig MPX Carbon Fiber Handguard on the 8inch MPX, and it's a nice touch to the gun but it'd be perfect with a 4.5 inch barrel and suppressor underneath it. To maximize size efficiency, the Copperhead variants use a one piece upper receiver/handguard.
With its really short monolithic handguard/receiver the Sig MPX copperhead isn't the best gun to mount accessories to. The Black Sig Copperhead has an M Lok mounting slot on both the right and left side of the rail that it's Tan MPX Copperhead cousin does not. This isn't a gun that needs a lot of accessories. This is a gun that, in my opinion, you want to keep as bare as possible.
Add a good optic like a Trijicon MRO, Aimpoint T2, Holosun Aimpoint T1 clone or the Sig Romeo 5 and call it a day. If you want something even lower profile, a Trijicon RMR on a Scalerworks mount or the Sig Romeo03 would make great options. I wouldn't add something as big as an EoTech XPS3 or Sig Romeo 8 on this PDW. That said, if you do have to add a light I would go with something like the Surefire X300 or Streamlight TLR1 and mount it as far forward as possible on the 1913 rail.
Shooting
The Sig MPX Copperhead's short-stroke piston rotating bolt operating system practically makes recoil disappear. The operating system does nothing to the conclusion the 9mm sub-gun clone creates.
You read that right, this wimpy 9mm with 4.5-inch barrel has a lot of concussion on the shooter.
When shooting your normal compact 9mm handgun like a Glock 19 or Sig P320 X Compact your arms extend the muzzle further away from your face so you really don't notice the concussion.
If you've ever shot close in live-fire weapons retention drills like Craig Douglas teaches in his excellent ShivWorks ECQC, it's slightly more than that.
Personally, I think that's a result of the A2 flash hider on the front of the gun directing the gasses to the side vs forward of the shooter.
As a 6' tall shooter this gun is not easy to get a good grip on the gun with my support hand. I'm not a fan of grabbing the magwell, but on this gun that technique might make more sense for me.
It's still something I'm working through. If this gun were an SBR, I'd most definitely add some sort of VFG (Vertical Foregrip) or AFG (Angled Foregrip) to the front.
It wouldn't look the best but it would really allow you to Control the Copperhead when shooting long strings of fire. That said if there is any gun that you don't need to work hard to control it's the Sig MPX Copperhead. 
This is the gun your friends will ask you to bring to the range every time but after they've shot a mag through it they'll put it back in your hyperlink your bags gun case.
For that range session, you can be sure you'll be texting or calling you the night before the next range trip asking you to bring the Sig Copperhead.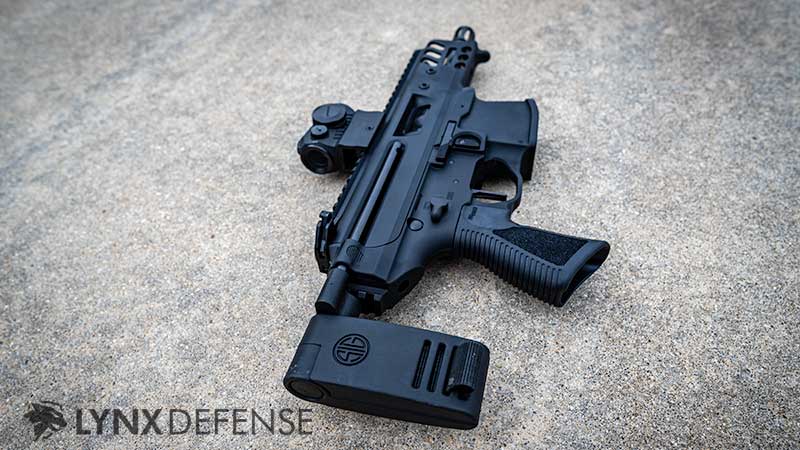 Appearance
The Copperhead is an overall attractive looking gun minus the pistol grip which is a practical size but just looks a little small on the larger Sig MPX receivers. The vent cuts on the front of the handguard and the built-in handstop look natural on the short gun. The largest and most out-of-place feature is the magwell, but it does help a lot with reloads and doesn't affect the overall size of the gun when it comes to covert storage in a briefcase or backpack. This is still a very short gun that was originally proportioned around an 8 inch barrel, so the visuals are a bit off but it's a PDW, not a medium-sized subgun like the regular MPX or an HK MP5.
Price
The Sig MPX Copperhead comes in at a hefty MSRP of $1878.00 and street price is normally $100-$200 less, so it's not an inexpensive gun. All you'll have to do is add an optic and start shooting. Unlike other options such as the CZ Scorpion, you don't have to immediately start switching out parts to get the gun to an acceptable baseline for a usable defensive firearm. There are aftermarket accessories if you really want to make it your own but they really aren't necessary. The biggest downside for myself as a person who likes to have lots of magazines for their firearms is that the Sig Lancer Mags Run $60 and are impossible to find for less than that.
Everyone has a different definition of value with some being able to buy a $1900 gun every month and others saving years for that privilege. If you're saving years to buy this gun, I'd make sure the PDW format is exactly what you're looking for. Unless you really need the PDW format, the Sig MPX K 4.5 is probably the better gun to spend your money on due to the increased versatility. If you're buying the gun to shoot a lot or suppress it, the MPX K is going to be more versatile and enjoyable to shoot.
But if you're going to use the Sig Copperhead as a PDW or you really want to have a fun toy for show and tell then there really isn't a better option in this price range. It's extremely controllable for its size but that concussion takes out the fun factor in the first magazine.
MPX K vs Copperhead
When you're deciding Sig MPX K vs Copperhead you really have to decide what you want the gun to do. If you plan to suppress your MPX then the Sig MPX K is the way to go.
It doesn't require an adapter to mount the suppressor and you can get handguards over the suppressor. You can't even mount a suppressor to the FDE copperhead due to the blunderbuss style muzzle brake that is built into the barrel.
Lancer Systems, Midwest, and Sig all make 8-inch handguards so you can extend your grip while covering most of the suppressor.
The length of the brace on the MPX K is also slightly longer and will be a lot more comfortable to shoot as it gets your face further away from the concussion.
If you plan on using the gun for anything but a concealed PDW the MPX K is the better option. It's more comfortable to shoot and more modular while not being much bigger.
Sig Sauer MPX Pistol
Both the Sig MPX and the SIG MPX K come with a pistol stabilizing brace, making them both pistols. Sig also makes and MPX PCC which is a 16″ barrel version of the Copperhead and the MPX K.
The MPX Copperhead pistol and the MPX K pistol use the ATF approved SB Tactical brace. If I'm not mistaken they use the same brace system on both platforms.
Copperhead Range Cases & Carry
Carrying the MCX Copperhead is a little different than with your typical PCC, the PSA AKV or SBR, like the Honey Badger Pistol, due to its overall length being much shorter.
While there are a number case options for the Copperhead, it may best fit fully extended into an SBR case such as the Bureau.
We may make a suitcase-style carrying case for the Copperhead in the future, but for now, that would be the best option from Lynx Defense.
I've also found the Copperhead fits really well in our multiple handgun bag, The Concord, with it's modular design you can easily move inserts around to fit the Copperhead in the bag.
Sig MCX Copperhead Final Thoughts
If you're looking for a fun range toy that you can comfortably shoot all day long or even something you can bring to your local indoor range and shoot a box of ammo through, this probably isn't the right gun for you.
It's hard to accessorize beyond adding an optic and it's not a ton of fun to shoot all day.
But if you're looking for a gun you can keep in a briefcase, backpack or even rig under your shoulder to wear with a bulky coat like you're on a protection detail, this is the perfect gun.
It's also one of the coolest guns you can get for show and tell and Harrison the co-author of this article definitely plans to add one to his collection (he's tried to buy it multiple times).
This isn't the only Sig we have reviewed. Recently we took a look at the Sig P938 pistol, so if you are in the market for a small 1911 pistol checkout or Sig P938 Review.