STNGR is most well known for its brand of Sun Glasses but has recently dropped an all-new red dot sight, the STNGR Axiom II. This 2 MOA dot sight is a budget red dot sight but is packed with features.
Without further ado let's dive into this red dot sight review.
First Impression
So when you first open the box, you're greeted with a number of things.
Very brief manual on use, a Singer sticker, a small layer of foam and you have your microfiber cloth, which is pretty standard.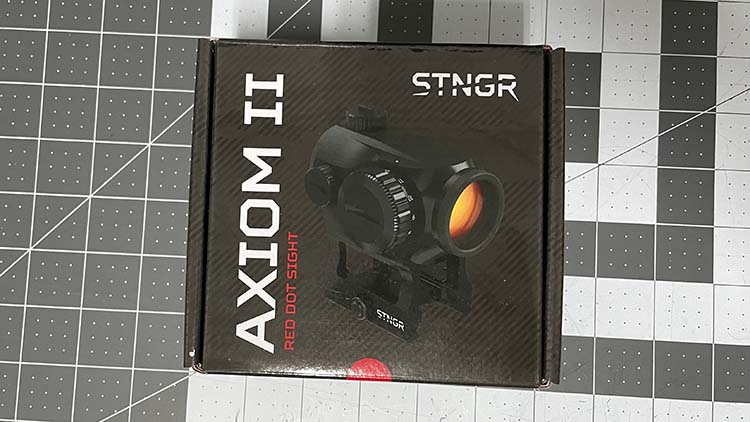 Once you remove all of that you are greeted with your optic and mount and a few other bags, you have a low-rise mount, which if you want to mount it flush without the QD locking mount.
Lastly, your CR2032 battery and a small wrench and a Trox10, and some extra screws.
Overall the packaging's pretty nice. You can see what kind of reticle you're working with, which is a 2 MOA red dot shown on the package.
Then at the very bottom of the box, you have your specifications, your dimensions, and everything that's included in the box to include:
Multi-height mount system
Quick detach lower 1/3 co-witness low height mount
Rubber lens cover
CR2032 battery
Microfiber cleaning cloth
T10 Torx wrench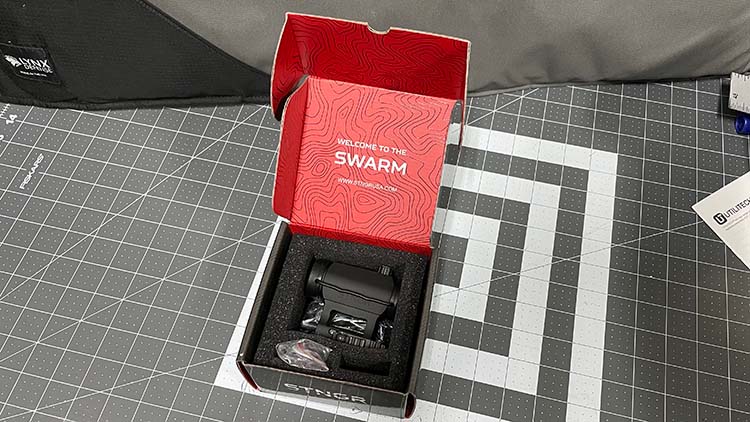 First impression out of the box, great package and setup. Holding the Axiom II it seems pretty solid, very Aimpoint-ish T1, T2 style feeling from the outside.
Won't dive too far into it, but the overall first impression is good. Aluminum feels quality, not a whole lot of plastic parts here.
Materials
So the interesting thing about this red dot is it actually is just 6061 T6 aluminum.
You see 7075 with the AR lowers a lot. You don't see the 6061 a whole lot, but given that this is a red dot sight I don't think you'll have an issue with the 6061.
But overall, the body and the mount are all aluminum. Taking a look at the caps, they also here to be aluminum.
Everything looks pretty solid in the material realm of this optic. Your turn knob, your adjustment knob, all of that is aluminum.
Weight
The Axiom II clocks in at 4.6 ounces, which is on par for this style of red dot sight.
It's not extra light, but also not heavy by any stretch. This is one of those optics that I don't think you're going to find a lot of issues overall with the weight.
The QD mount actually has the middle hollowed out. That's a really nice touch to save a little weight on your mount and it helps with aesthetics.
Reticle
Not I'm gonna talk about the reticle. This is the most important part to me because it is the entire point of the product.
When you have the optic on setting 11 in low light you will get a halo effect. But if we are being honest who runs their red dot sight on the highest setting in low light? You shouldn't if you do.
If you run on medium power in low light the dot looks fantastic with no halo and it's pretty crisp.
The dot emitter in the tube isn't super distracting but you can see it in the bottom right of the tube.
The walls of the tube are thick but don't block your sight picture. The top turrets aren't distracting but they are there. I like how STNGR positioned the turrets and the adjustment knob on their sight.
Dot Adjustment
Let's talk about the dot adjustment real quick. So the dot adjustment on this is your standard windage and elevation.
Your windage is on the right side and to move the dot to the right you turn the dial counterclockwise.
The STNGR Axiom II has what I like to see in the caps which is a built-in notch, so you can easily adjust your reticle.
This one's very easy to adjust and I have had no issues with it.
Power Source
The power source is like most red dot sights. This one's not revolutionary in any sense.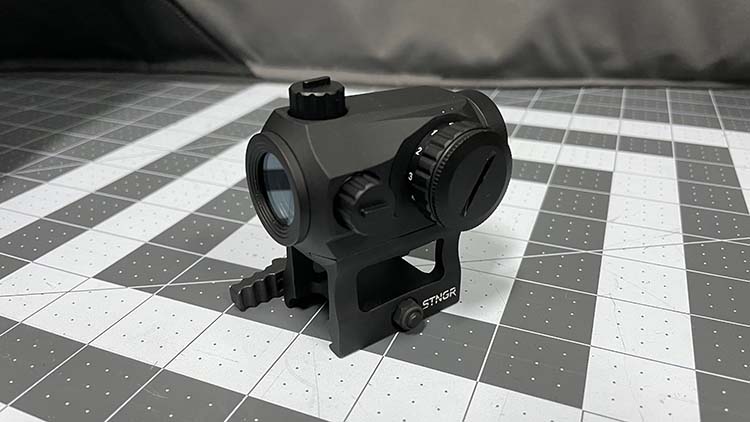 Twist of the cap by hand to place the CR2032 battery in the optic and boom, simple as that.
The battery did not come installed in the Axiom II. It comes separately in a little bag and you will need to take it out and put it in the optic before mounting.
On the inside of the cap, there is a small foam disc that probably provides positive pressure for the battery to make good contact.
Screwing it back on is relatively easy and you can use a small screwdriver for this or even a coin.
Durability
The 6061 T6 aluminum does seem like it'll hold up well. I don't have any issues with the all-aluminum construction.
Now, the coating may or may not mar, but other than some cosmetic blemishes that could possibly happen this seems like it's going to be a solid optic for the long haul.
Once again, don't have any strict tests for this so I won't elaborate on that too much.
Sight Picture
The sight picture on the Axiom II is pretty decent. I don't have much in the way to compare it to.
It's almost an Aimpoint T1 or T2 profile. The walls are a little thick, but they're probably better than something like the Bushnell TRS 25.
This definitely clocks in a little bit higher quality than that and isn't that far off on price.
Overall, I think you're going to find that this is a solid red dot for the money, especially with the included QD mount. That is a nice touch.
If you don't plan to run the QD mount, it might be a little excessive price point-wise.
But overall it works really great. The nice thing I like about this is you can pop it on and off the rail really quickly.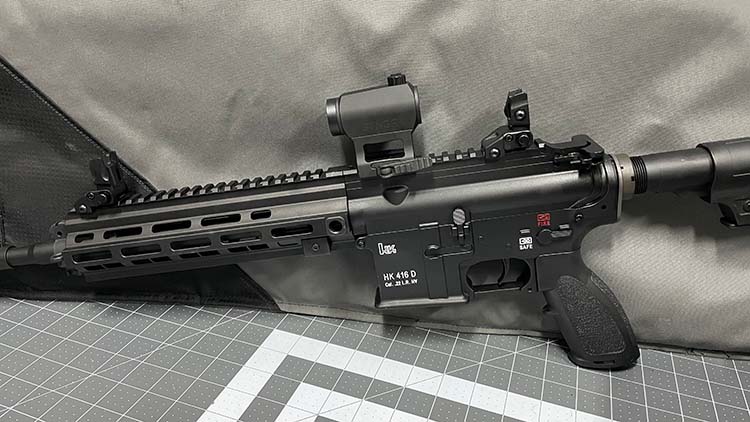 I'm planning to run this Axiom II on my H&K 416 22. It's a really fun gun, and this is going to make it ten times better than the included stock flip-up sights that are on that gun currently.
Operation of the Axiom II
It's your standard turn wheel adjustment method. You have 0 through 11, with zero being off.
I like the fact you can turn the brightness knob in both directions. So you can roll it to one or you can roll it to maximum power. I do like that a lot and is overlooked often.
I don't like where you have to go all the way through 11 settings, just to get to the setting you want. If you want to go to maximum power, you can. If you want to go to the medium power or low power, you can right off the bat.
So clockwise and counterclockwise turning on the brightness knob is a huge plus.
Final Thoughts on the STNGR Axiom II
So my final thoughts on the STNGR Axiom II are, for the money, it's a solid sight. I think really, and I won't harp on it too much, but I think really where you're getting the best of value on this sight is going to be your QD mount.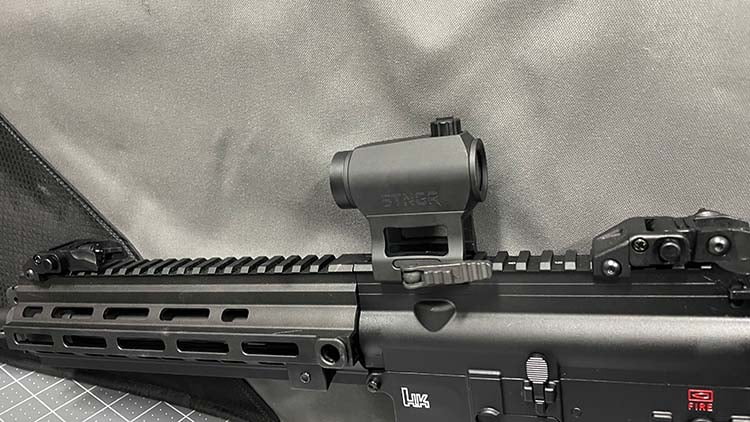 This QD mount is actually quite nice, and it is the reason for the included wrench. You can tighten down the mount so that it sticks to that particular 1913 rail you're going to attach it to.
Overall, it's a really fantastic little combo. As I said, if you're not looking for a QD-mounted red dot, maybe this isn't for you.
I am going to keep this on a dedicated gun. So I probably won't use the QD portion of it, but it's a 1/3 co-witness mount which I do like so it's pretty much good to go for my use case.
With that said, if this meets your needs and is in your budget range, the STNGR Axiom II is actually very good.
It's interesting because they were most known for their sunglasses, but I think this will make a little splash and I'm interested to see what they come out with next. This might even make the list of best red dot sights for ARs.
It will also pair well with the Viridian HS1 laser.