Most people don't put a lot of time or thought into the ar rifle bag they put their rifle in. Some don't care and think any ol' case will do while others focus only on the price. But at Lynx Defense, we believe choosing a quality rifle case to travel with or take to the range is just as important as having a high-quality rifle. One of my friends summed it up best, "Why would you put your $1,000+ rifle into a $50 case? Protect your investment."
Keep reading to learn why our rifle cases are so highly regarded. We'll cover the features of our two rifle cases – the 36″ Rifle case and the 42″ Rifle case.
Rifle Case Front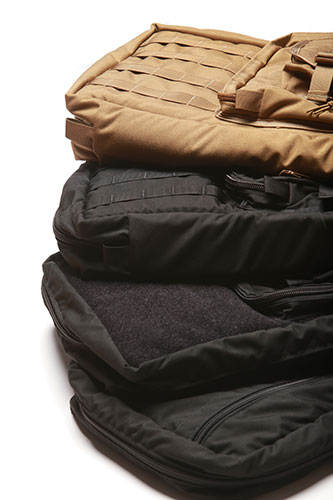 The most photographed and easily identifiable side of the case is the front. We wanted a tactical look, but we also wanted it to be useful. That's why it's covered with features and pockets.
We noticed pockets that were too small and features that weren't user-friendly in other cases, so we opt-ed out of them because they didn't provide any value.
After researching all of the other products on the market, we decided on two configurations for the ends of the case: molle and hook.
Molle
The molle attachment system is a popular and widely-used system with regard to existing accessories, so it was a natural fit when designing our rifle cases. This configuration is extremely popular with our law enforcement and military customers. Molle systems allow you to add IFAK kits as well as other molle attachments directly to the end of the rifle case. Consider which molle attachments you plan on using before deciding which size case meets your needs. Our 36″ case has fewer molle loops, but most attachments we have tested work well on the rifle cases' molle system.
Hook & Loop
This attachment is just the hook part of the hook and loop setup. You might not want to attach anything extra to your case, but you want a lot of space for morale patches. This setup is designed for you. No other case out there gives you this amount of space to express yourself and your interests.
We have equipped the entire ends of both the 36″ and 42″ cases with the hook side of Velcro so patches can be attached. After listening to customer feedback, while this configuration was popular, we decided to go strictly to the molle style rifle case.
Outside Back
On the back of the rifle case, we set our focus on making it a backpack style carry. But we wanted it to be the most comfortable backpack rifle case you've ever used. We designed ultra-cushioned straps for a secure, comfortable fit that you won't mind carrying for a long time. And if you decide you want to ditch the straps, you can remove them easily.
Outside Pockets
The outside pockets were crafted with a few things in mind. One was quick and easy access to your rifle magazines so that if needed you could access them fast. Depending on the way you insert your magazine, you could fit anywhere from 3-5 per pocket. The second was for small boxes of .223/5.56mm ammunition, the center pocket is perfect for a few extra boxes of ammo for the range.
Interior Pocket

The feature that people constantly say they love is the addition of four interior sealing pockets that allow you to store anything from range gear to more guns. The two padded Velcro pockets are great for pistols and magazines – that is how I use my interior pockets.
The two zipper pockets were created to store your hearing protection, slings, and other gear that doesn't require a lot of padding. It's even easy to zip up items in the compartment that don't fit into one of the four pockets, just be careful when you unzip it!
Inside
The interior of the rifle case is the most important part of the case. The part that holds your precious hunk of metal that is your rifle. We pulled out all the stops for the inside of the case. But first, let's start with the two sides and rifle retention.
With every rifle case I've previously owned, there was always very little in the way of being able to mold the case to my gun. I thought this would be an obstacle when I started Lynx Defense, but in 2016, we knew it could be done. We created a four-strap system that allows you to use as many or as few of the straps as you need. It also gives you options so that if the strap falls on a weird spot on your rifle, you can always use the next strap down. This feature is significant because if you ever needed to run with your rifle while carrying it, the jarring wouldn't move the rifle around in the case.
The retention methods don't stop there. Our criss-cross barrel and buttstock retention system allows you to place your barrel and buttstock into the case safely and securely, no matter the orientation. This keeps the firearm pointed in a safe direction and abides by the golden rules of firearm safety.
And last but most definitely not least, important: the removable gun mat. Just when everyone thought the inside flap of your rifle case was only good for stopping your guns from banging together, we had a light bulb moment. We decided to double the size of the inside flap, attach it to itself, and make it removable from the seam of the case. This provides a gun/shooting mat that you can easily remove and reattach.
Made in the USA
Our products have always been and will always be made right here in the USA. Our expert sewers craft each of our cases in our shop in Selma, North Carolina, from the highest quality materials we can find.
It might cost more to produce our cases in America, but we believe in supporting our nation's workforce and economy (and we know you'll receive a superior product because of that).